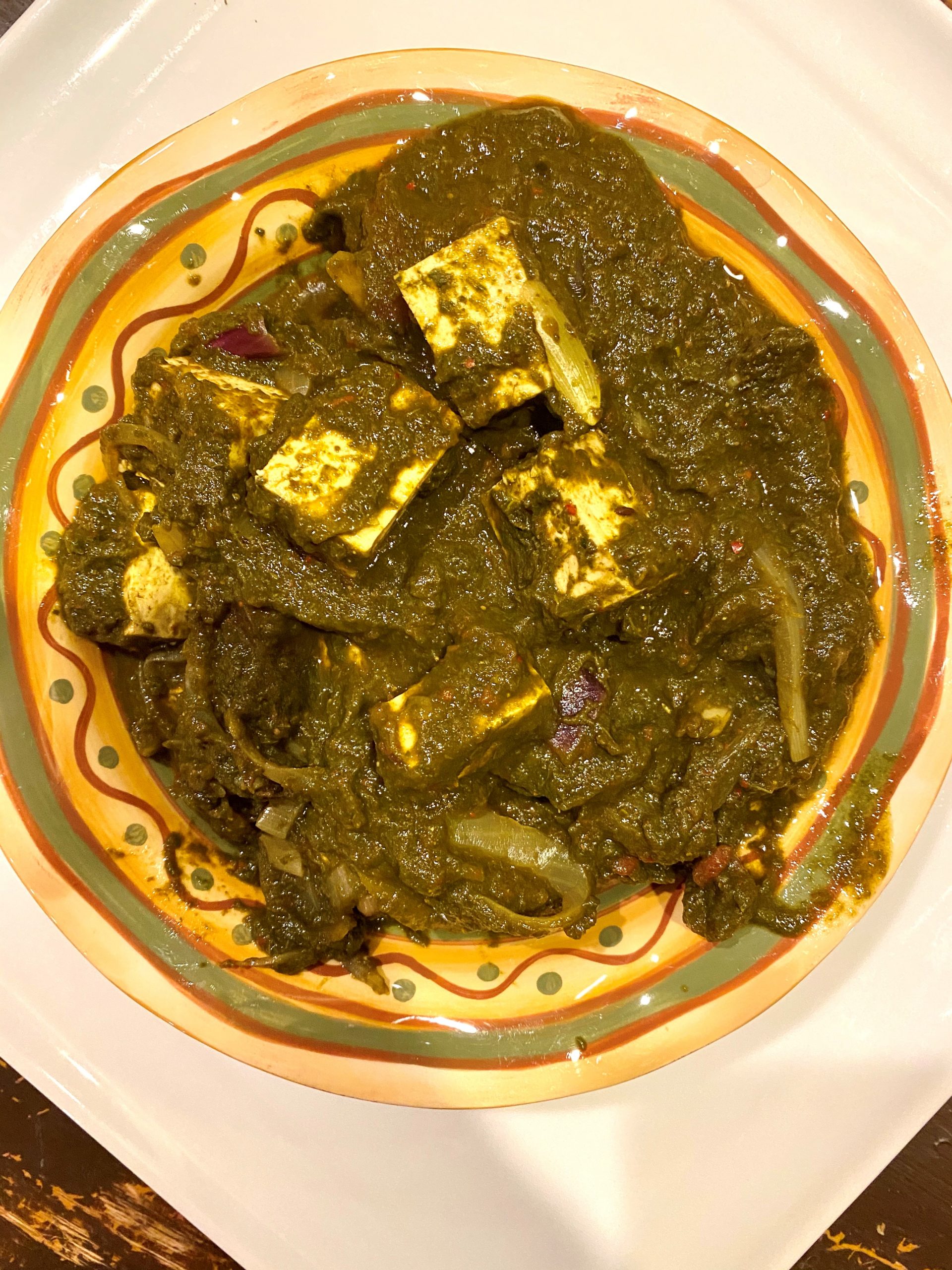 Palak Paneer (tofu)
Servings: 4-5
Ingredients
One small pack of firm tofu
Spinach 2 bunches, rinsed and drained
2 medium onions, sliced
A small piece of ginger, grated 
One small can chopped tomatoes 
1-2 Thai green chilies (optional) slit along the mid line
1/2 tsp turmeric powder
1/2 tsp red chili powder 
1/2 tsp cumin seeds
1 tsp coriander powder
1 tsp cumin powder
4 cardamom pods
3 cloves
Directions
Take the tofu and use either a tofu press or 2 heavy flat objects (cutting boards or heavy pans) press the tofu between to get rid of the excess water.  After about 2 minutes, cut the tofu into 1/2 inch cubes.
In one thick bottomed pan add the Thai green chili and sauté for 1/2 a minute, add the clean rinsed and drained spinach. Turn flame on low and cover and cook for 6 minutes. Turn off the flame or heat source. Now take the spinach and purée it until nice and smooth. 
In another thick bottomed pan add cumin seeds, heat on medium for a minute, now add the sliced onions. Cook and sauté for 2 minutes on medium, add 2 tsp water if needed. Now add tomatoes and all the other spices and cook on low, covered for 10 minutes. The mixture should be a thick sauce like consistency. 
At this point, the onions and the tomatoes should me well cooked, now add the spinach purée. Stir the purée in and once well mixed with the tomatoes and onions, add the tofu cubes.
Stir it gently, cover and cook on low for 2 additional minutes.
Add a small amount of salt if needed. About 1/2 teaspoon goes a long way. 
When you eat this dish, watch out for the cardamom pods and cloves, don't bite into them as the taste can be rather strong, these are great flavoring spices, in addition to medicinal properties they also add tons of aroma to the foods.
You can enjoy palak paneer with rice, quinoa or rotis.