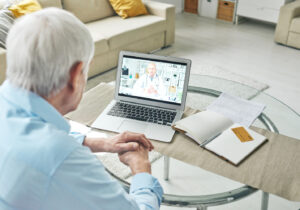 Steps to take to keep your practice sanitized and your patients safe
As the number of COVID-19 cases continues to rise across the nation, it's more important than ever to maintain a safe and properly sanitized office environment. Following recommended guidelines for patient safety and office sanitization from the CDC can help protect you, your patients, and your staff.
How can physicians limit patient exposure to COVID-19?
Since COVID-19 is a highly contagious infection, it's particularly threatening within confined spaces, such as waiting rooms. Unfortunately, COVID-19 particles are too small to be effectively filtrated through commercially available air filters.
Therefore, it's important to take steps to keep your office sanitized and your patients safe. Ideally, the goal is to minimize the risk of exposure before the patient's arrival, upon arrival, and throughout the visit.
What sanitization procedures are necessary for COVID-19?
To encourage good hygiene among office staff and patients, you might consider placing hand sanitizer dispensers at strategic locations throughout the office. In a recent article in Medical Economics, Dr. Betty Rabinowitz recommends removing magazines and toys altogether, and making certain all common areas and frequently touched surfaces are regularly sanitized, especially:
Reception counters
Waiting room chairs
Door handles
Railings
Elevator buttons
Check-in kiosks or iPad screens
In addition, the American Medical Association (AMA) suggests using dedicated medical equipment, and cleaning any non-dedicated, non-disposable equipment, according to product instructions.
What precautions should my staff take?
To protect your staff members, the AMA recommends following the appropriate standard, contact, and airborne precautions—donning and doffing appropriate personal protection equipment (PPE), including eye protection—when entering a room with a suspected COVID-19 patient.
The AMA also recommends training your health professionals in protective procedures and monitoring all personnel daily for any signs of infection. It's important for your employees to understand that they should not come to work if they're experiencing any COVID-19-like symptoms.
What patient safety precautions should be taken for COVID-19?
For the safety of all your patients, the CDC recommends:
Conducting virtual visits via telehealth, when possible
Using a phone triage system, with trained personnel, to manage suspected COVID-19 patients, according to CDC recommendations.
The CDC recommends protecting non-COVID-19 patients by creating separation. Consider designating a separate entrance and treatment area as COVID-19 only, preferably at the back of the office, away from other patients. Immediately upon entry, you can direct a suspected COVID-19 patient to this specially designated exam room, keeping the exam room door closed to protect staff.
Encouraging e-check-in and checkout, if available, will enable patients to bypass waiting areas altogether. You can also create separation by dedicating certain days of the week, or times of the day, to older, high-risk patients, and limiting the number of patients in your office by postponing any non-essential, elective visits or group activities.
Patient screening
The CDC recommends screening all patients and visitors for COVID-19 symptoms before they enter the office, including a temperature check, and then requiring them to wear protective masks while on site. To encourage compliance, consider supplying masks for patients and other office guests.
Potential COVID-19 patients can be prevented from entering the office unannounced by posting signage at the front door, directing them to call before entering. Appropriate signage, and other useful safety materials, can be downloaded from the CDC website.
Facilitate in-office social distancing
To encourage your patients to practice safe social distancing, consider restricting the number of patients and visitors at any given time by staggering appointments. To monitor patient movement within the office space, physical barriers, such as partitions, can be used to help guide patients through triage areas. You may also want to rearrange furniture at a safe distance apart and set markers to indicate the proper distance between patients in line at check-in and checkout areas.
What other measures can I take to protect my medical practice?
If you have the capability, the CDC suggests encouraging telehealth as an alternative to in-office visits. In addition, the CDC recommends making sure that all licensed staff are well trained in proper triage protocols. To help with this process, they provide Phone Advice Line Tools, including a sample phone script and a decision-making algorithm. Office signage, as well as staff and patient education materials, are also available on the CDC website.
Most importantly, it's best to always assume the worst. The CDC recommends treating all patients and guests who visit your office as though they have COVID-19, whether or not they exhibit symptoms. To protect your patients, your staff, and yourself, it's best to remain vigilant and direct your medical and office staff to do the same. You can stay updated on new developments regarding COVID-19 by routinely monitoring CDC recommendations.
Sources:
About SignatureMD
SignatureMD is one of the nation's largest firms providing initial conversion and ongoing support services to concierge medicine physicians. SignatureMD currently partners with over 200 affiliated primary care physicians and specialists across 35 states, and its network is rapidly expanding.