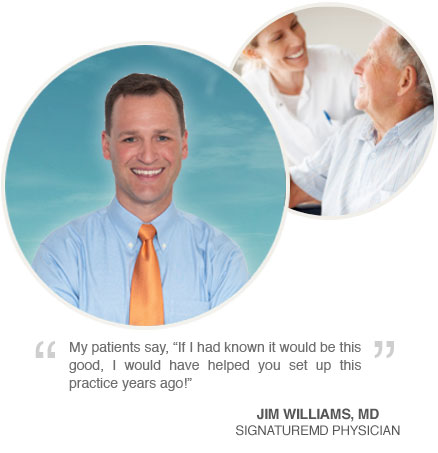 Dr. Jim Williams, MD
Internal Medicine
Washington, DC
Jim Williams feels as though he has a calling to provide thoughtful care to his patients, most of whom are senior citizens. "It's very worthwhile work," he says. "Older individuals are the ones who need us the most."
Dr. Williams began his career in practice with his father, also an internist. But as Medicare reimbursement rates were slashed, and his father prepared to retire, Dr. Williams sold his practice to a hospital system. It was clearly not a good fit; he desperately missed his independence, and hated the rushed 12-minute patient visits.
Based on the recommendation of a physician friend, Dr. Williams began talking with SignatureMD, and chose to convert with the company to concierge practice.
"I'm providing much better, much more attentive, much more detail-oriented care to a fraction of the typical number of patients," he says. "You can get to know patients, their spouses, and their children." He calls his patients' oncologists on a regular basis.
He also has time to make house calls for patients who are home bound or recovering from surgery. "It's an important part of good health care for people who really need it," Dr. Williams says. "Concierge care makes it possible."
This is the health care Dr. Williams envisioned when he became a doctor. "The hard work is so much more rewarding, so much more effective and thorough, and so much more appreciated," he says.
Physician Story | Dr. Jim Williams, MD