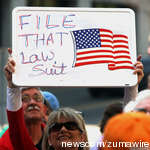 Health Care Reform Faces Judgement
Health Care Reform Lawsuits
Twenty states have brought legal arguments against the federal government and health care reform, and those arguments are about to make their way to trial. On Tuesday the 20 states will face a federal judge and plead their case, hoping to get the health care bill overturned. Family physicians, concierge doctors, and concerned American's will be watching in anticipation.
In 2014, a federal mandate will ensure that all Americans have health care by literally forcing them to have health care. The 'individual mandate' will penalize an American who does not have some form of health insurance, and force them to pay a fine if they don't. The 20 states in the lawsuit are claiming that this mandate is unconstitutional.
While the 20 states, along with the National Federation of Independent Business is asking for a repeal of health care reform, the Justice Department is asking the Florida federal judge to dismiss the case all-together. The Justice Department has already lost one of these requests for dismissal when they asked a federal judge to dismiss Virginia Attorney General Ken Cuccinelli's lawsuit. The judge in that instance said the 'health reform plan did in fact raise constitutional questions.'
President Obama's run for the Presidency was based in large part on his push and stance on health care reform. It was one of the positions that got him into office. But with the form of health care that passed, many are unhappy with the overall outcome and see it as a slap in the face after voting him into office based on a different reform plan.
One of the most divisive issues within this version of health care reform is the individual mandate, and the penalties that Americans will face without insurance. According to Politico.com, one key provision of the law requires all Americans to have insurance, offering subsidies to help lower- and middle-class taxpayers buy it — but the requirement has been controversial. Democrats said it is needed to make other parts of the plan work, such as a provision that would require insurers to take all applicants and prevent them from rejecting applicants with pre-existing conditions. .
The states that will face a federal judge on Tuesday include Alabama, Alaska, Arizona, Colorado, Georgia, Indiana, Idaho, Louisiana, Michigan, Mississippi, Nebraska, Nevada, North Dakota, Pennsylvania, South Carolina, South Dakota, Texas, Utah and Washington.
…