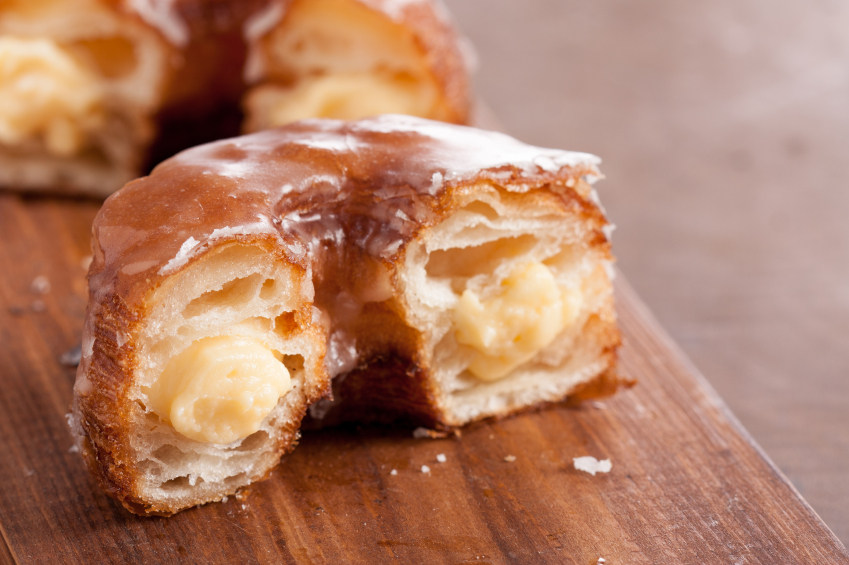 The 5 Unhealthiest New Food Trends
It seems a new and disturbing food trend emerges each week. These foods gain popularity as they are shared through social media and by news outlets. Fast food companies suggest they are on the nation's side, fighting obesity with them by developing new and healthy salads and snack choices, but each year they create new fat-filled foods. We share with you 5 of the unhealthiest new food trends.
1. Cronuts
The doughnut-croissant hybrid became popular after chef Dominique Ansel began serving the fried snack at his bakery in Manhattan in 2013. Copycat versions of the treat have been appearing at bakeries across the country ever since. While we can testify to the deliciousness of this sugary hybrid, the cronut's nutritional value is appalling. While bakeries won't release the nutritional information for their doughnut treats, chef Dominique Ansel explained what goes into the cronut, lots of butter for the croissant dough and pastry cream filled in between each flaky layer. The cronuts are deep-fried in grape seed oil and finished with a sugary glaze. We think it's safe to say that one cronut will exceed your daily saturated fat and sugar allowance in one go.
2. Chocolate-Dipped Potato Chips
Lay's launched their milk chocolate covered potato chips just in time for the holidays. A limited-edition snack, we can see this one being copied by other companies in 2014. The already unhealthy wavy potato chip is now even worse for you with the addition of a milk chocolate coating. 1 serving of these chips will give you 4.5g of saturated fat, that's 22% of your daily allowance.
3. Glazed Donut Breakfast Sandwich
Dunkin Donuts recently launched their new breakfast sandwich, changing breakfast forever, but not in a good way. The sandwich consists of a glazed donut, sliced in half and filled with bacon and fried egg. One sandwich contains a moderate 360 calories, but when you look more closely at the ingredients, 180 of those calories are derived from fat. The sandwich contains a whopping 20 grams of fat and 40% of your daily saturated fat allowance.
4. Meat-filled Pizza Crust
In 2012, Pizza Hut Middle East decided that a stuffed cheese crust just wasn't unhealthy enough. They introduced the cheeseburger crust pizza, a pizza filled with mini cheeseburgers. It was so popular it was later introduced in the UK, a country struggling with obesity. While this meaty treat doesn't seem to be available anymore, it has been replaced with a new stuffed crust filled with mini hot dogs and drizzled with tomato ketchup and mustard. We were unable to find the nutritional information for this pizza but we're guessing it isn't pretty.
5. Milkshakes with Added Bacon
A disturbing new culinary trend is adding bacon to everything from cookies to chocolate, but this milkshake from Sonic takes it even further. The peanut butter and bacon shake takes real ice cream, blends it with peanut butter and bacon, and tops it off with a swirl of whipped topping. Even a small milkshake contains a whopping 760 calories and 26 grams of saturated fat, that's 130% of your daily allowance. Supersize your milkshake and you're looking at 1720 calories and 55 grams of saturated fat.
Sources:
http://www.huffingtonpost.com/2013/06/05/cronut-calories_n_3390837.html – Cronut Craze Is A Nutritional Nightmare, Number Of Calories Unknown. Huffington Post.
http://www.dunkindonuts.com/content/dunkindonuts… – Glazed Donut Breakfast Sandwich. Dunkin Donuts.
http://www.sonicdrivein.com/MenuItem/frozen-zone/peanut-butter–bacon-shake – Peanut Butter & Bacon Shake. Sonic Drive In.