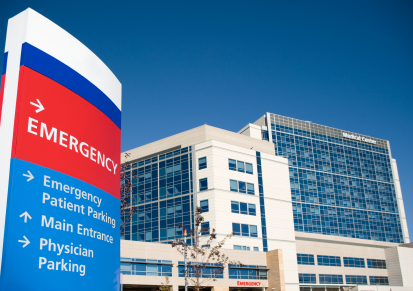 What's in a Name? "Hospital" or "Medical Center"?
You're feeling unwell, it's the weekend and you need to see a doctor, fast. So where do you go? A hospital or a medical center and what's the difference? According to a study conducted by Rivkin & Associates LLC and Bauman Research & Consulting LLC, consumers associate hospitals with a greater variety of services, better medical care, cutting edge medicine, and expert physicians compared to services offered by medical centers.
What's the Difference between a Hospital and a Medical Center?
The study was surprising as in recent years, hospitals have frequently rebranded themselves as medical centers, worried that the term "hospital" was old fashioned. Turns out they shouldn't have made the switch.
Medical centers and hospitals are one and the same. Both can contain a variety of medical offerings: specialists, emergency treatment, primary care physicians, and surgeons to name a few. The consumer survey found that 61% of respondents believe that hospitals have a wider range of services than medical centers. Over half of the people surveyed, 52%, believe that hospitals provide patients with better care than medical centers.
It clear that consumers are confused and don't understand what the term medical center means. To many a medical center is similar to a clinic, a place where you receive basic primary care without the extra services provided by a hospital.
New Health Care Terminology doesn't just Apply to Hospitals
New health care terminology is something we should all be familiar with, especially with the Affordable Care Act reshaping the health care industry. Important terminology that we should all be aware of includes:
Individual Mandate – The provision of Obamacare that requires U.S. Citizens and legal residents to have health insurance beginning January 1, 2014.
Health Insurance Marketplace or Exchange – The health insurance marketplaces are state or federally-run and created so that individuals can easily compare health insurance plans. The marketplace also helps individuals to see if they qualify for health insurance subsidies based on their income.
Essential Health Benefits – Health care service categories that must be covered by insurance plans in the individual and small group markets. These benefits include: emergency services; hospitalization; maternity and newborn care; mental health and substance use disorder services, including behavioral health treatment; prescription drugs; rehabilitative and habilitative services and devices; laboratory services; preventive and wellness services and chronic disease management; and pediatric services, including oral and vision care.
Whether you are for or against health care reform, change is here and it's important that we understand our rights and responsibilities with regards to this law. SignatureMD personalized care physicians can help guide you through these changes and what they mean for you.
Sources:
https://www.healthcare.gov/how-does-the-health-care-law-protect-me/#part=9 – How does the health care law protect me? HealthCare.gov.
http://www.fiercehealthcare.com/story/hospital-vs-medical-center-hospital-title-favored-consumers/2011-06-21 – Hospital vs. medical center: Consumers favor 'hospital' title. Fierce Healthcare.