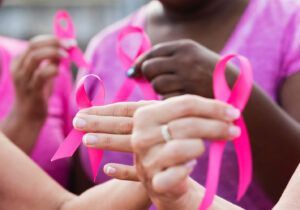 October is Breast Cancer Awareness Month: What you need to know
Breast Cancer Awareness Month kicks off an annual campaign to increase awareness of our nation's second most common cancer among women. It's also a good time to learn about the risks, prevention, and treatment of the disease.
According to the National Breast Cancer Foundation (NBCF), one out of every eight women will be diagnosed with breast cancer at some point in her life. In fact, the Centers for Disease Control (CDC) reports that 245,000 women are diagnosed with breast cancer every year, and that more than 40,000 per year die.
Find out what you can do to reduce your own risk, and then help others by supporting the National Breast Cancer Foundation.
What are the symptoms of breast cancer?
The most common symptoms of breast cancer include:
Changes in the size or shape of the breast
Pain in any area of the breast
An unusual discharge from the nipple, sometimes bloody
Any new lump in the breast or underarm area
If you notice any of these symptoms, contact your doctor immediately. The sooner you're diagnosed and treated for breast cancer, the better your chances of survival.
Why is early detection so important?
According to the American Cancer Society, when breast cancer is detected early, in the localized stage, the 5-year relative survival rate is 99%. This is why monthly self-exams are so critical to a woman's health.
In addition, scheduling regular clinical breast exams and mammograms can be another crucial factor in finding breast cancer at its earliest and most treatable stage. Many breast cancer symptoms are invisible and may go undetected without a professional screening. Ask your doctor what types of screening are recommended for you based on your age, health, and family history.
Who is most at risk for breast cancer?
There are several key indicators that put you at a higher risk for breast cancer. The most common risk factors include:
Being a woman
Being over the age of 50
Changes in your BRCA1 or BRCA2 genes (certain mutations occur in these genes, which make cells more likely to divide and rapidly change, leading to breast cancer.)
It's important to keep in mind, however, that most women who get breast cancer have no known risk factors, and about 10% of women who get breast cancer are under the age of 45. Men, too, can get breast cancer, although the incidence is less than 1%.
How can you reduce your risk of breast cancer?
There are many factors that influence your risk for getting breast cancer. Some, such as getting older or having a family predisposition, can't be changed. Others can be.
Taking the following steps can lower your risk of breast cancer:
Maintain a healthy weight
Get regular exercise
If you're taking hormone replacement therapy or oral contraceptives, ask your doctor about the risks
Breastfeed your children, if you can
If you have a family history of breast cancer or inherited changes in the BRCA1 or BRCA2 genes, discuss with your doctor ways to lower your risk
By remaining healthy throughout your life, you'll not only lower your risk of developing breast cancer, but you'll also improve your chances of surviving if you ever do get cancer.
How can you help fight against breast cancer in your community?
If you'd like to honor Breast Cancer Awareness Month by taking action, the National Breast Cancer Foundation offers a number of ways you can provide support and inspire hope in those affected.
If possible, consider making a cash donation of $150. This will provide a mammogram for a woman in need.
Start a fundraiser to help educate women about breast health, free resources, mammograms, and other screenings. Your help may also provide support to women as they navigate the complex cancer care system.
If you are a breast cancer survivor, share your story with others. Stories can be shared on Instagram, Facebook, LinkedIn, and Twitter to inspire hope among those facing a similar journey.
Give back by purchasing featured products and merchandise, such as a HOPE Kit or Game Pink products found on the NBCF website. NBCF will receive 100% of the proceeds from every purchase you make.
Wear a Pink Ribbon to show your support.
Become a community ambassador. A community ambassador is a person of leadership who seeks out opportunities to share breast health information and promote NBCF's programs in the community. Community ambassadors receive breast-health training and have the ability to coordinate awareness and fundraising events. They can also recruit volunteers as needed to ensure that their community has the necessary tools.
Whatever action you decide to take, it will make an impact. According to NBCF, supporters provide help and hope to women at every stage of the breast cancer journey.
Sources: