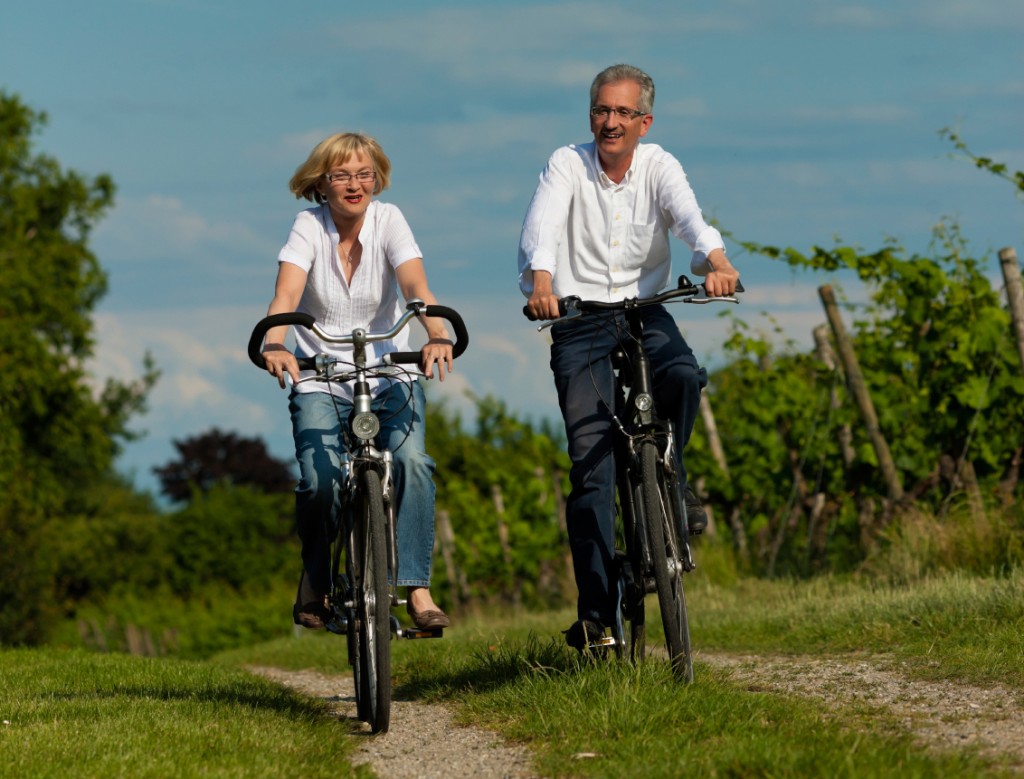 Stay Active this Summer
Sometimes it's hard to motivate yourself to exercise when the weather is hot and humid, but it's important to exercise frequently even during the warm summer months. Here are some of our favorite ways to keep active during summer and none of them involve a gym!
Stand Up Paddle Boarding
Stand up paddle boarding is a low-impact form of exercise that is perfect for warm sunny days. It first gained popularity in Hawaii, but now classes and rentals can be found across the United States. Stand up paddle boarding is a complete body workout utilizing almost every muscle in the body. It requires strength and balance and is particularly effective at strengthening your legs, arms, back, shoulders, and abdominal muscles.
Water Workouts
Water workouts such as water aerobics, aqua Zumba, and aqua cycling seem to be increasing in popularity each year. Taking your exercise class to the pool this summer won't just keep you cool, it will actually help you to work out harder than if you were completing the same class on dry land. The resistance offered by water causes your muscles to work harder, leading to a better and more efficient workout. 1 hour of water aerobics will burn approximately 272 calories!
Cycling
Summer is the perfect time to take up cycling. Many cities and towns have dedicated bike paths that will take you through beautiful scenery. Cycling is a low-impact form of exercise that will tone and build muscles, improve your overall levels of fitness including cardiovascular fitness, and help you to burn calories and lose weight. When cycling through beautiful scenery you'll forget you are working out and consequently exercise for longer than if you were cycling in the gym. Another great option for getting out and about is the tricycle, a transportation solution that is fantastic for all ages due to its safety and ease to ride. Looking to get involved in this mode of transport? Why not check out reviews of such products over at AdultTricyclepro.com?
Hiking
Hiking can be beneficial for both your mind and body. Choose a beautiful hiking spot and adjust your pace according to how strenuous of a workout you want to complete. Hiking in the sunshine can also improve your mood and help you to feel relaxed and happy. A moderately paced hike up and down hills can help to improve cardiovascular health and fitness. 1 hour of hiking at a moderate pace burns approximately 408 calories! Just get your tactical boots on, lace up and you're ready to go – find out more about boots that are ideal for tackling the great outdoors from Outdoor Empire.
Kayaking
Kayaking on a lake or river in the summer is peaceful, relaxing, and also great for your body. Regular kayaking can improve fitness, cardiovascular health, and work out your upper-body. Purchasing a kayak is a great idea for your fitness, and being able to transport your kayak around for the summer holidays is a benefit! If you're thinking of purchasing a trailer, you could check out these reviews to see which one will be best for what you want it for, or how many kayaks you'll be moving, for example. Kayaking is such a great summer exercise that allows you to adjust your pace according to your fitness level and goals, whilst also being able to explore different lakes and rivers.
Outdoor Yoga
Yoga combines stretching exercises with controlled breathing and relaxation techniques. Various studies have shown that yoga can help to reduce stress, improve balance and flexibility, and may help to alleviate chronic conditions such as anxiety and insomnia. When practiced indoors yoga can be beneficial, but taking an outdoor yoga class on a beach or by a lake can truly help you to relax. Outdoor yoga can be more challenging than a class taken in a studio, simply because it can be more difficult to balance and achieve certain poses, but as a result of this you will grow stronger and give your muscles a better workout.
Summer brings with it many opportunities to stay active and enjoy the long summer days. As always, remember to consult with your SignatureMD physician before taking up any exercise regime. Your physician will be able to guide you toward exercises that will suit your specific health and fitness goals and ability.
Sources: