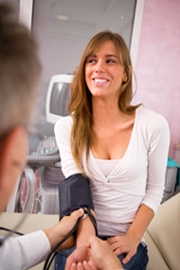 The Hype About Hypertension
In a new report from the University of North Carolina, it was found that blood pressure among 24- to 32-year-olds may be much higher than previously thought. According to NPR (National Public Radio), "In 2008, a whopping 19 percent of participants in a federal survey — one out of every five — had high blood pressure." The study involved more than 14,000. Although the male participants were more likely than the females to have hypertension, it was determined that the majority of the participants were unaware they suffered from high blood pressure. High blood pressure, or hypertension, is defined by a reading of more than 140/90 millimeters of mercury (mmHg).
The study also discovered that over the course of the evaluation, more participants became obese. In 1995, "11 percent were obese. On follow-up five years later, that number had doubled to 22 percent. By 2008, more than one-third (37 percent) were obese. Another 30 percent were overweight, but not obese. This means 67 percent of all of the young adults were above a normal weight."
Obesity and hypertension can cause problems like diabetes risk, kidney disease and arthritis, which is why young adults should begin healthy lifestyle habits early on. The concierge medicine model, like that designed by SignatureMD, allows doctors to thoroughly evaluate patients for issues like high blood pressure, and prescribe manageable and healthy wellness plans to get patients feeling and living at full capacity.

…