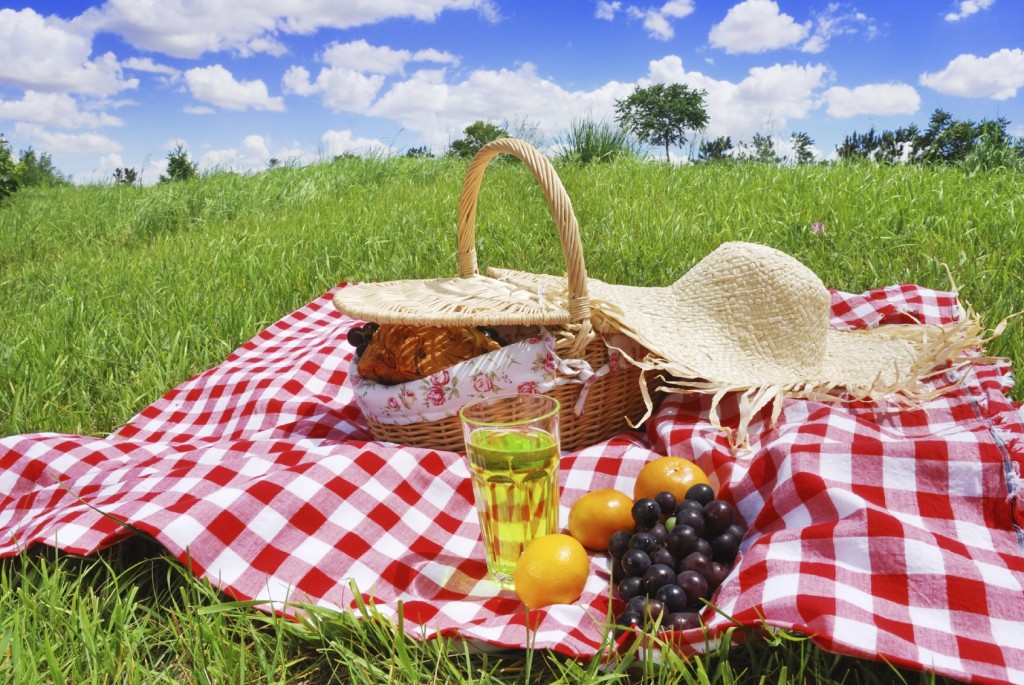 The Perfect Summer Picnic
Summer is the ideal time of year to head outside and enjoy a picnic. We share some of our favorite tips for enjoying a healthy and delicious picnic including: how to find the perfect spot, healthy food choices, and fun activities for when you are there.
How to Find the Perfect Picnic Spot
The recreation.gov site has a handy tool which lets you search for nearby picnic areas. Simply type in your location, select that you are interested in day use and picnic areas, and search for the perfect spot where you can sit on your Custom Stadium Blankets and enjoy the day. Many national parks list picnic areas on their websites, so if you have a particular park in mind try using the park's website to find your ideal picnic location. Some of our favorites include Yosemite, Yellowstone, and Rocky Mountain.
Healthy Picnic Food
Mayonnaise-laden salads, hot dogs, chips, and cookies, traditional picnic food is often full of fat and empty calories. Healthy picnic food doesn't have to be boring! There are many ways that you can still enjoy a delicious picnic without the associated junk food.
Choose fruits and vegetables that are in season: Instead of cookies and cake, prepare a fruit salad before your picnic using fruits that are in season. Fruits in season at this time of year include watermelon, cantaloupe, strawberries, raspberries, blueberries, kiwi, peaches, apricots, and plums. We also like to bring a large salad to our picnics using seasonable vegetables. Great choices at this time of year include cucumber, tomatoes, corn, and lettuce. Make sure to only apply salad dressing once you are ready to eat to prevent the salad vegetables from turning soggy.
Healthier sandwiches: Instead of bringing white bread, mayonnaise-laden sandwiches to your picnic, opt for healthier whole grain bread, wraps, or pita bread. Skip the mayonnaise entirely and fill your sandwich with lean meat, smashed avocado, lots of veggies, and season with herbs. While not a low-calorie option, drizzling your sandwich with a little olive oil adds flavor and healthy-fats.
Grill the healthy way: If you decide to grill at your picnic, try to avoid typically high-fat foods and instead choose grilled vegetables and lean meats. Some of our favorites include grilled vegetable kabobs, grilled whole portobello mushrooms, and burger patties made with lean beef. If you fancy a cheeseburger opt for lower fat cheeses such as Swiss cheese or mozzarella.
Make better snack choices: Choose healthy snacks such as nuts, vegetable crudités and dip, or homemade trail mix. Here are some of our favorite healthy snack choices.
Avoid soda: It's easy on a warm summer's day to drink more soda than we should. Choose one of our healthy soda recipes instead! Prepare the soda before you leave, keep it cool in a flask, and serve with ice when everyone is ready for a drink.
Perfect Picnic Activities
Planning enjoyable activities for while you are at the picnic doesn't have to be hard. Focus on how many people will be attending and the age range of guests before choosing activities. Tasty Catering has a great list of fun picnic activities broken down into categories depending on the guests attending. Some of our favorites include potato sack races, relays, frisbee, and scavenger hunts.
So we've given you all of our tips for the perfect summer picnic, now it's time to plan and put it all together. To help, we've created a picnic checklist to help you plan an unforgettable and healthy picnic. Click on the image below.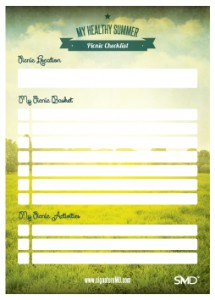 Sources: