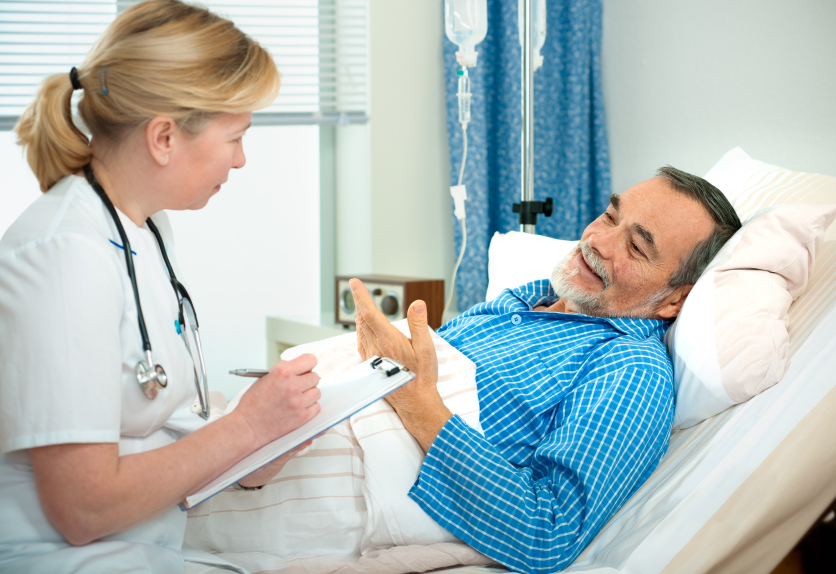 Improving Doctor-Patient Communication
It's not a new problem, but one that is now receiving attention in the medical field, how to improve doctor-patient communication. In the past, medical schools have placed little emphasis on teaching these types of skills to trainee doctors, but studies have shown that effective communication is essential in diagnosing and treating illness, as well as preventing errors.
Communication Is Key
In a previous article we discussed how medical schools are increasingly testing applicants social skills during the selection process. Virginia Tech Carilion tests candidates via a series of interviews. Other medical schools use role-play as part of their medical curriculum, bringing in actors to test students' communication skills and responses to different scenarios.
Studies have shown that when doctors are distracted and not fully listening to what their patients are saying, they miss important health clues and may even end up misdiagnosing illness. Having new technology and practice management software should be a priority in today's age and can help avoid misdiagnosis. Without, this can lead to problems for both patient and physician, not to mention potential malpractice suits, and in the worst-case scenario, the patient's death. A recent Wall Street Journal article identified that "a breakdown in physician-patient communication is cited in 40% or more of malpractice suits." When patients don't understand and follow their physician's instructions or recommendations, they can actually make their conditions worse, ending up back in the doctor's office or in some cases, the hospital.
5 Communication Tips That All Doctors Should Follow
Dr. John Henning Schumann recently discussed the key communication habits that all doctors should practice when meeting with patients:
Sitting down with the patient – Sitting down helps put the patient at ease. It shows them you are willing to take the time to listen properly. If you don't feel confident sitting with patients because you feel embarrassed about not being able to speak fluently, it may be time to check out something like Effortless English accent training program and work on improving this important skill. This could make such a difference when it comes to speaking to patients and work colleagues.
Introduce yourself to the patient – Applies to hospital care or urgent care, important as patients often see multiple doctors during a hospital stay.
Explain your role in the patient's care – Again important for hospital care. Patients may be confused about each doctor's specialties and responsibilities and how they are involved in their care.
Human touch – A simple handshake or pat on the arm can reassure the patient that you are human and empathize.
Good conversation – Conversation can help to calm a patient. Open-ended questions are great for eliciting more information. It's important for doctors to listen to their patients as they discuss their symptoms for a more accurate diagnosis.
Various U.S. health systems are now offering training to established physicians in the 'Four Habits'. The model teaches doctors how to build rapport with patients, elicit their views through open communication, show empathy toward their patients, and assess their patient's ability to follow any prescribed treatment regimens. The training has proven successful in studies, with doctors rated poorly in patient surveys experiencing improved patient-doctor interaction ratings after completion.
Communication Goes Both Ways
Doctors are the driving force during appointments, but we've previously discussed ways in which you can empower yourself before you visit your doctor. Don't be embarrassed to ask your doctor questions and don't leave the office until you clearly understand any treatments prescribed to you. Make sure to let your doctor know of any unusual pains or symptoms that you may have been experiencing so that they can better diagnose your condition.
It's clear that effective patient-doctor communication is essential when diagnosing and treating patients. SignatureMD affiliated doctors practicing personalized medicine, also known as concierge medicine, see fewer patients on a day-to-day basis than in a standard primary care practice. This enables them to offer lengthy appointments that encourage in-depth discussion between patient and doctor. Through these discussions, SignatureMD doctors are able to identify unusual symptoms at an earlier stage, enabling them to treat illnesses before they develop into something more serious.
Sources:
http://www.npr.org/blogs/health/2014/01/11/261398048/5-simple-habits-can-help-doctors-connect-with-patients – 5 Simple Habits Can Help Doctors Connect With Patients. NPR.
http://online.wsj.com/news/articles/SB…. – The Talking Cure for Health Care. The Wall Street Journal.