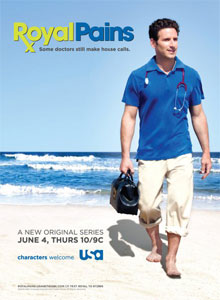 Concierge Medicine Rates on "Royal Pains"
What? You don't have your HankMed and Evan Bobblehead set yet? You'll surely want these character caricatures before USA Network's hit comedy series, "Royal Pains," returns Weds., June 29, 9/8 Central. The series, which premiered in the summer of 2009, stars actor Mark Feuerstein, whose character, Hank Lawson, was formerly an ER doctor. When a notable patient dies and he's blamed, he relocates to the posh Hamptons on Long Island, N. Y., to practice concierge medicine. Word travels fast in the elite community, and Hank is now a hot doctor-in-demand.
Seems the trend of personalized medicine hasn't gone unnoticed by Hollywood. Citing "dramatic growth," the network even devotes a page to concierge medicine and says: "It looks like this new health care model might be here to stay, which is good news for Hank—or is it?"
It is. Here at SignatureMD, we couldn't be happier for Hank. After all, he's part of a wise group of physicians nationwide who've traded overloaded patient rosters and schedules for a life in which professional and personal goals mesh in a synergy that benefits both doctor and patient. We can't wait to watch the next episode of "Royal Pains." Perhaps your next appointment should be to talk to us here at SignatureMD. We guarantee high ratings.
Photo courtesy of USA Networks: "Royal Pains", a part of NBC Universal
…