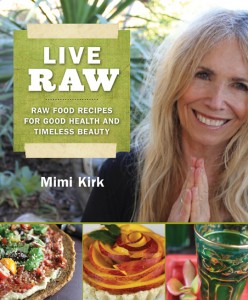 SignatureMD's Exclusive Interview with the "Sexiest Vegetarian Over 50" Mimi Kirk – age 74!
Age is a number, it is how your preserve your vitality and mobility that is most important. Investing in exercise, eating right, finding the best doctors and staying on top of your checkups and baseline tests, and employing common sense lifestyle changes will enrich you with your first wealth, which is health.
Many people view vegan-ism and especially raw food vegan-ism as so exotic and daunting, they don't know where to begin. One 74 year-old grandmother can show you how easy it can be, and explain the benefits in great detail.
Mimi Kirk was previously reported on here at SignatureMD's blog, and we loved her story so much, we asked for an interview.
Kirk is the mother to four children, and has 7 grandchildren. A Hollywood native, she married at 17 and was widowed at 29. Kirk has adopted a vegetarian and vegan diet since her mid-thirties.
Since winning the title of the "Sexiest Vegetarian over 50″, Mimi has become a go-to expert on health and longevity through eating a plant based raw food diet.
We asked Mimi to explain some of the benefits of a vegan diet, even if someone adopts a percentage split of vegan and regular diet, to offset heart disease and diabetes:
SignatureMD: For the average person who wants to eat healthier this coming Holiday season, what are some easy swaps and recommendations of substitution to replace the typical grocery end caps of brown sugar, butter, sour cream, marshmallow creme, breaded stuffing mix, and canned yams?
Mimi Kirk: I always bring my Thanksgiving dinner with me to my son's home as that's where our family gathers. Everyone wants to eat what I bring so I always make enough for everyone.
My Thanksgiving dinner consist of large Portobello mushrooms sliced thickish, marinated in a little Braggs, or gluten free Tamari, olive oil, and poultry seasoning. Then I dehydrate them until slightly warm and wilted.
I make a stuffing with sprouted wild rice, chopped apples, walnuts, celery, raisins, onion, sage, salt and pepper, also warmed. I love fresh cranberries chopped in a food processor with a little orange juice and orange zest. Add a touch of sweetener like agave or sweetener of choice, a little squeeze of lemon and you have the best cranberry relish ever. I also make mashed or spirilized sweet potato. Desert is a cinch, a raw apple pie is always great, or chocolate, or both.
SMD: What are the biggest health benefits, from your own experience, in eating as vegan/vegetarian as possible?
MK: I feel like I'm in my 20's. No aches and pains, balanced blood pressure, cholesterol, and weight, just to name a few, oh yes, and I feel I look younger, my hair is thick, my nails strong and i have boundless energy.
SMD: The biggest mistakes people over 40 make eating are…?
MK: Not eating enough good foods because they don't have the time. Eating processed foods and too much cooked foods. Both can keep a person from optimum health.
SMD: In your estimation, what are the true "superfoods" that should be eaten daily or as often as possible?
MK: Green, green, greens. I also think a rainbow of organic veggies is necessary on a daily basis for the variety of nutrients they provide. We should include berries, and fruits if one is ok with some sugars.  A little fermented food is also a good idea to consume daily
SMD: With the healthcare crunch on for Medicare and seniors, and GP physicians becoming harder to find, what is the best advice you can offer anyone to stay well?
MK: I do go for checkups, but I feel I'm my own doctor. Of course I believe health as we age is vital to enjoy a long life, and that is why I eat raw foods and wrote my book LIVE RAW. Anyone can improve their health by just starting with a daily green drink. Add a salad for lunch and you have a good start for positive change.
SMD: If you were an elected food czar and could outlaw any food(s), what would it(they) be, and why?
MK: Processed and inorganic foods. Processed foods have many chemicals as well as inorganic foods. I look at the middle of a supermarket as a morgue. To me personally, processed foods are dead foods. I don't have the taste buds for this kind of food anymore. It might take a little time to drop the habit, but once you do, you will really feel the difference in your health.
SMD: What would you tell anyone who worries that changing their diet won't allow them find any great Holiday foods they can enjoy?
MK: I've found a way to "mock" any dish I use to enjoy during the holidays. It's all about texture, herbs and spices. In my book I have cheese recipes, deserts, and so many main food dishes that you will not miss the standard American diet foods. Most of all, you will feel energized after eating instead of that full and the "sorry I ate so much" feeling.
SMD: Deep fat fryers and waffle irons are vestiges of a time past; what are the must-have kitchen gadget/items for the modern human being who does not wish for diabetes Type 2 or heart disease? 
MK: I love my juicer, blender and food processor. My oven is my dehydrator, and I find my spiralizer, which I use for making pasta noodles, is a must.
SMD: When you go off the rails, what is your guilty food pleasure or indulgence?
MK: Would you believe it's a rarity? But, I've has a little espresso when in Italy, a cooked sweet potato and an artichoke on occasion. Truly, my guilty pleasures are my own raw foods.
The other day, I made a raw pizza, and ate the whole thing in two days by myself. My cravings are usually for raw food, and it takes about a year to get that way.
SMD: Do you believe that we should just eat 6 smallish meals a day and never after 6 PM like some believe? What is your feeling about some of these food rules?
MK: Yes, I do think it's better to eat smallish meals throughout the day and end eating a few hours before bedtime, but it's not always possible for many people including myself. I think we should set ourselves a plan, do the best to stick with it, and not beat ourselves up if we happen not to.
Mimi Kirk offered us a recipe from her book "LIVE RAW"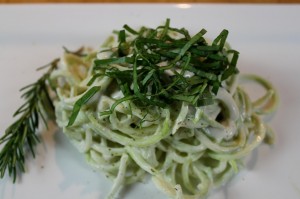 Cheezy Cheese Sauce
2 cups raw cashews
4-5 tablespoons lemon juice
1/1/2 cups water
1/8 cup olive oil
2-3 tsp. fresh rosemary, minced
3-4 tsp. Braggs Liquid Aminos or gluten free tamari
3-4 tbsp. nutritional yeast
1-2 tsp. Celtic Sea Salt or to taste
Ground black pepper to taste
Blend into thick cream. Add more water if needed.
Taste for all seasonings and add more to your liking.
Garlic can also be added along with ribbon cut basil.
You can purchase Mimi Kirk's book here: http://www.amazon.com/Live-Raw-Recipes-Health-Timeless/dp/1616082747