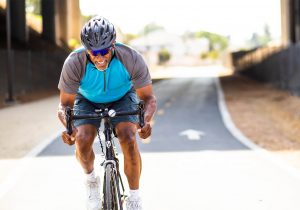 Bicycling your way to improved well-being
If you're spinning your wheels trying to think of a way to get fit and have fun, get ready for the ride of your life with bicycling. There are plenty of reasons to go for a ride, from the chance to get some fresh air to the peace of connecting with nature and the ease of a workout that works for your budget and schedule. But perhaps, the most important reason to hop on a bike is the health benefits of cycling, which extend from your body to your mind and your overall sense of well-being. So, come along for the ride to discover the health benefits of cycling, the rewards of cycling vs. running, and how to bike safely. Staying healthy is as easy as riding a bike!
Reasons to take cycling for a spin
You may have never imagined that your favorite childhood activity would become your preferred pastime as an adult. Well, that's the case with cycling. Today, adults are shifting gears away from their worn-out workouts and rediscovering the simple pleasure of riding a bicycle. After all, cycling is the perfect sport for all ages, body types, fitness levels, and budgets. Biking not only brings you closer to your fitness goals, but it also takes you where you want to go. You can ride a bike as a fun activity, as a competitive sport, or as a means of transportation. Along with the health benefits of cycling, the peace of connecting with nature and the free-spirited fun of feeling like a kid again makes cycling a great activity for the whole family.
How cycling benefits your body and mind in tandem
Riding a bike is a fun-loving activity that takes the work out of working out. Cycling benefits your body by helping you slim down, tone up, and improve your all-around health. But beyond what biking can do for your body, cycling benefits your mind to help you look and feel your best inside and out. Take a tour of all the ways that cycling can help you look good and feel great.
A healthy heart for the long haul – One of the reasons to love cycling is how it helps your heart over time. Cycling is a heart-pumping cardio workout that helps improve your cardiovascular health over time and lowers your risk of heart disease.
Road to managing your weight – Riding a bicycle boosts your heart rate and torches calories. With this healthy burst of cardio and calorie burn, cycling maintains weight. Biking can also lower your overall body fat levels, which is yet another way that cycling maintains weight.
A low-impact joyride – Put the brakes on high-impact workouts like running that can be hard on your body and can become more of a pain than a pleasure. Cycling is a low-impact activity that's easy on your joints, knees, and back. This is why some doctors may recommend cycling vs. running for older adults and people with arthritis.
A leg up on a stronger lower body – Cycling gives your lower body a workout by toning and tightening your leg muscles, such as your glutes, quads, hamstrings, and calves. While running can provide similar results, cycling is gentler on your joints and muscles. One of the strongest reasons to consider cycling vs. running is that cycling can build muscles while running just helps you maintain them.
Lighter, brighter mood – Cycling gives you plenty of reasons to smile by improving your mood in a number of ways from soothing stress to relieving anxiety, easing tension, and decreasing depression.
Puts insomnia to bed – Tired of tossing and turning all night? It's time to turn to cycling because it's been shown to regulate sleep patterns to help you get the sleep you need.
Tips to safely put the pedal to the metal
Whether you're cruising outdoors, enjoying the scenery, or pedaling up a sweat on a stationary bike, it's important to know how to bike safely to steer clear of any problems. Check out the following tips on how to bike safely:
Stay alert and focused on the road.
Steer clear of busy roads and rush hours.
Learn the rules of the road by taking a safety course.
When possible, ride in lanes for cyclists.
Try to ride during daylight hours.
Keep your bike in good condition.
Ride with a friend or a group because there's safety in numbers.
Before hopping on a bike, talk to your SignatureMD-affiliated doctor to see if riding is right for you.
Gear up for safe cycling
Start with a high-quality helmet because these can greatly reduce your chance of injury if you're involved in an accident. Wear bright-colored clothing during the day, put on reflective clothing at night, and get bike lights to stay seen and safe on the road. It's also a bright idea to protect yourself from the sun by wearing sunscreen, sunglasses, and UV-rated clothing. And, be prepared to handle bike emergencies by carrying a patch kit to fix a flat tire.
Whether you ride outdoors or indoors, the physical and emotional health benefits of cycling can help you go the distance towards your health and wellness goals.
Sources: