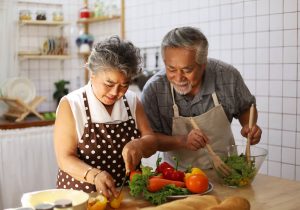 Healthy eating tips for aging adults
It's an age-old problem: how to be healthy, stay sharp, and feel young when you just keep getting older. Fortunately, there is a whole new approach to aging and many people are able to feel good, live longer, and age better simply by eating well. No matter your age or stage of life, it's never too late to improve the way you feel by embracing some healthy eating habits. As you get older, healthy eating benefits you physically by keeping your body healthy, mentally by keeping your mind sharp, and emotionally by improving your sense of well-being. Healthy eating doesn't need to eat up all your energy, time, or budget if you stick to the healthy eating tips outlined below. Feed your body better as you get older with these reasons for healthy eating, diet advice, and planning pointers for healthy eating for seniors. Satisfy your appetite for a healthy, active, and energized way of life with healthy food choices.
Why healthy eating is good for aging
As you get older, it's especially important to understand the importance of healthy eating for seniors. See, the way you eat directly affects your body, your mind, and your mood. Contrary to many opinions, healthy eating doesn't mean dieting and deprivation or starving and sacrifice. It simply means developing healthy eating habits to help you nourish your body more efficiently. After all, improving your diet can improve your life. Healthy eating benefits you in the following ways:
Helps you live longer
Improves your immunity
Reduces your risk of many chronic conditions, such as heart disease, high blood pressure, stroke, cancer, type 2 diabetes and osteoporosis
Helps you stay active and independent
Keeps your mind sharp and focused
Improves your memory
Boosts your mood
Increases your energy
Gives you a positive outlook
Makes you stronger
Controls your weight
Makes you feel good about yourself
A quick introduction to healthy eating
Eating should be a pleasure. Unfortunately, many people avoid eating right because they think it will be a pain. Healthy eating for seniors can be easy and enjoyable with these basic healthy eating tips. Forget about strict meal plans and counting calories by following these simple guidelines for a healthy eating diet:
Enjoy a variety of fruits and vegetables in a rainbow of colors, whether fresh, frozen, freeze-dried, or canned.
Get enough protein throughout the day by including fish, poultry, lean meats, eggs, low-fat dairy, beans, and legumes in meals and snacks.
Have at least three ounces of whole-grain foods each day, such as breads, cereals, crackers, pasta, or rice.
Include three servings of low-fat dairy like milk, yogurt, or cheese every day, which are full of calcium and vitamin D to keep your bones healthy and strong.
Eat more fiber, which can be found in fruits, vegetables, whole grains, beans, and legumes.
Go for "good fats" rather than "no fat" by choosing healthier fats like polyunsaturated and monounsaturated fats when cooking and enjoying foods.
Drink enough water, low-fat milk, 100% juice or unsweetened tea to stay hydrated.
Drop these diet disasters
Now that you know which healthy foods to eat, it's time to realize the ones you should avoid. Since healthy eating is about progress and not perfection, simply try to cut down on or avoid the following foods as much as possible:
High-sodium foods, which can increase your risk of hypertension and stroke.
Caffeine, which will prevent you from getting a good night's sleep and may cause an irregular heartbeat.
Fried, sugar-packed, over-processed foods with empty calories like candy, doughnuts, fries, chips, and baked goods that only provide extra calories and fat without any nutrients.
Sugary drinks, such as sodas, juices, sports drinks, and energy drinks that can raise your blood sugar and your weight.
Food for thought on prep and planning
Before following any healthy eating tips, check with your SignatureMD-affiliated doctor to see if there are any particular foods that you should include or avoid, as well as the servings you need to maintain a healthy weight. Then, make sure that your meals and snacks feature a variety of foods, including fruits and vegetables, lean protein, whole grains, low-fat dairy, and healthy fats. Check nutrition labels when shopping to find items that are lower in calories, fat, and sugar. Swap salt for herbs and spices to add flavor without any sodium. Healthy eating is about more than food. It's also about enjoying your meals and the people you share them with. So, make eating a social event by dining with friends and family. Consider shopping and cooking with others. And, enjoy solo meals by listening to soothing music and taking time to focus on the pleasure of eating.
With the many ways that eating well can improve how you feel, age, and live, healthy eating never gets old.
Sources: