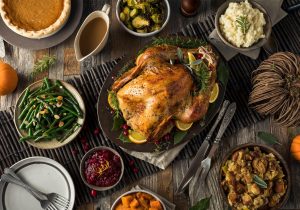 Tips and tricks for a balanced, healthier Thanksgiving holiday
Thanksgiving is just around the corner! While it's a very exciting time of year, it seems like everyone overindulges on this day devoted to family, friends, football—and especially food! After all, you wait all year for Dad's famous stuffing or Aunt Sue's apple pie. So, why not go ahead and splurge? If you pile up your plate with rich, heavy dishes and then pile onto the couch, you'll soon be piling on the pounds. However, you don't need to go cold turkey on your favorite foods and festivities. It's easy to find a wide selection of healthy Thanksgiving recipes for everything from healthy Thanksgiving sides to healthy Thanksgiving desserts for an easy, tasty, and healthy Thanksgiving menu. Help yourself to a helping of healthy Thanksgiving tips you'll be thankful to have around this holiday season.
Eat a hearty breakfast
If you think that skipping breakfast will help you save calories for the big meal, save yourself the misery because having a healthy breakfast will actually save you from overindulging. Your best bet is to eat a good breakfast, such as whole-grain cereal with milk, a cup of yogurt with fruit, or an egg on a slice of toast. These will give you the right amount of fiber and protein to keep you satisfied until dinner.
Drink up
Stay hydrated by drinking plenty of water. Many Thanksgiving favorites are stuffed with sodium, but water flushes the salt out of your body and prevents you from getting bloated. Plus, some people confuse hunger with thirst, so drinking water throughout the day will keep you going without overindulging. If possible, try to stick to plain water. If you want to toast the holiday, alternate your cocktails with a glass of water or seltzer.
Cook a healthy Thanksgiving menu
Believe it or not, you can make Thanksgiving dinner healthy and still keep everyone happy. If you're hosting the holiday dinner, you can create a healthy Thanksgiving menu by trading heavy holiday dishes for healthy Thanksgiving recipes. If you're going as a guest, offer to bring a lighter side dish like a salad or healthy dessert. Try these savvy cooking tips to put together a healthy Thanksgiving menu:
Use fat-free chicken broth instead of butter for basting the bird.
Swap cream for whole milk or Greek yogurt in mashed potatoes, rich dips, hearty soups, and creamy casseroles.
Skimp on sugar by reducing the amount by up to 25% in baking or substituting it altogether with fruit purees.
Lower the sodium and heighten the flavor by using low-sodium chicken broth and spices instead of salt.
Make stuffing a smarter choice by mixing whole-grain bread with white, using broth instead of butter, and adding lots of vegetables.
Skip the seconds
One of the easiest ways to have a healthy Thanksgiving is to pass on seconds—and thirds! Before piling up your plate, look over the buffet to find the foods you really want. Focus on filling one plate with lean turkey, along with healthy Thanksgiving sides like vegetables without heavy sauces. Go ahead and enjoy small servings of holiday favorites that you only get once a year. Just remember to fill most of your plate with healthy Thanksgiving dishes. By sticking to one plate, you can save room for days of leftovers and won't be left uncomfortably stuffed.
Pack pumpkin onto your plate
Fall's favorite squash may be best known when sweetened with sugar as pie, but pumpkin is actually a superfood full of antioxidants, vitamins, and minerals, making it a great gourd to eat for Thanksgiving dinner. When roasted with veggies and spices, pumpkin is perfect for healthy Thanksgiving sides. When added to muffins and cakes, pumpkin can reduce the fat and sugar content in healthy Thanksgiving desserts. If Thanksgiving isn't complete without a slice of pumpkin pie, have a small slice and limit the whipped cream, or make your own with one of many healthy Thanksgiving recipes for this sweet seasonal staple.
Carve out time for exercise
If you usually spend Thanksgiving on the couch, begin a new tradition of being active on the big day. Take a walk in the morning for an energy boost or go for an evening stroll to help you digest the big meal. And, rather than just watching football on TV, go outside for a friendly game and a heart-pumping, heartwarming workout with friends and family.
Savor every bite and moment
Make the most of this special meal by slowly enjoying each taste and tradition. Eating slowly allows you to savor your favorite flavors and recognize when you're full, so you don't go overboard on fat and calories. By eating slower, you'll have more time at the table to appreciate your food, friends, and family.
It's as easy as pie to have a healthy Thanksgiving this year. By dishing out a healthy Thanksgiving menu, while also squashing some bad habits, the rest is just gravy.
Sources: