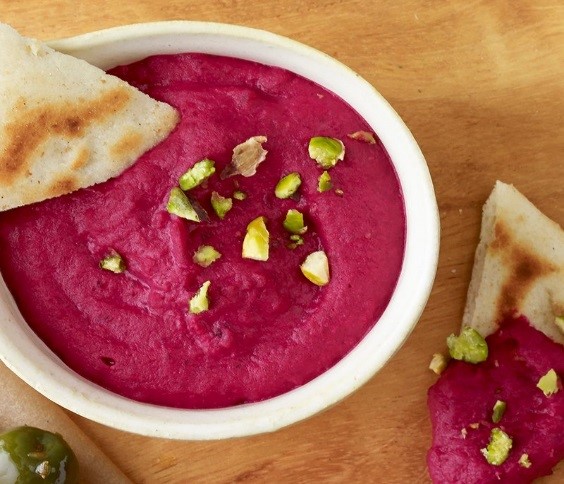 Beet & Bean Dip
Ready in: 10 minutes
Prep: 10 minutes
Servings: 1 1/2 cups
Ingredients
1 medium red beet/beetroot, peeled and steamed
1 teaspoon oil or tahini
3 teaspoons lemon juice
15 oz/400g can cannellini beans, drained and rinsed
¼ cup pine nuts
½ teaspoon salt (optional)
¼ cup water
Directions
Steam beets/beetroots.
Peel then coarsely chop beets.
Drain beans, reserving 1/4 cup of the liquid.
Place beets, beans, tahini, lemon juice and seasonings in food processor; cover.
Process until smooth, scraping down sides as necessary. Add reserved liquid; process until smooth.
Spoon dip into small bowl. Cover.
Refrigerate until ready to serve.
To serve, drizzle dip with olive oil and garnish with chopped toasted pistachios or pepitas, if desired. Serve with warm pita wedges or pita chips.
(Recipe from Eat more/CHIP cookbook)