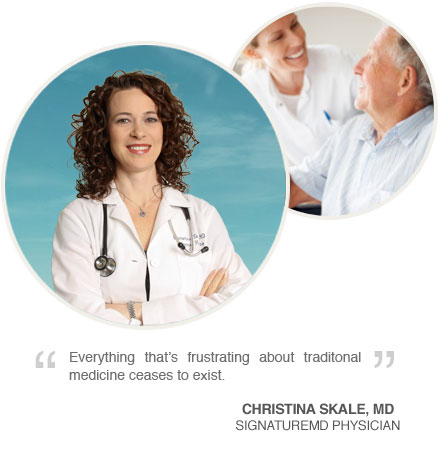 Dr. Christina Skale, MD
Internal Medicine
Chesterfield, MO
Dr. Skale was ready to switch careers. She saw 27 patients a day, and typically ran more than an hour behind. Her patients were often irritated, and Dr. Skale felt frustrated by the lack of quality time with both patients and her family. She revealed her distress to her father, Bill Benedict, MD, with whom she shares a practice.
"I told him, 'I can't sustain a practice like this for another 25 or 30 years,'" she remembers. "It was so unsatisfying. We weren't able to address the complexity of people's problems."
Drs. Skale and Benedict ultimately landed on concierge medicine as a better option. After interviewing several concierge medicine companies, they found that SignatureMD's dynamic model best met their needs.
Dr. Skale now hears gratitude from her patients about their on-time, unhurried appointments. With expanded testing, she can catch conditions such as metabolic syndrome and prediabetes at an early stage, and can educate patients about staying healthy. "It's a great way to practice medicine," she says. "It opens so many doors in terms of how you can improve patient care. It's a breath of fresh air … and gratifying in so many ways."
Physician Story | Dr. Christina Skale, MD