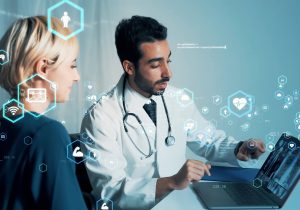 How will AI and ChatGPT impact concierge medicine?
One of the latest breakthroughs affecting the well-being of society may not have originated in a lab, but it could affect the health and practice of medicine as we know it. It's an artificial intelligence (AI) chatbot known as ChatGPT. This is more than a trendy app; ChatGPT is a form of generative AI that can do many things that humans can do, which is both thrilling and frightening. ChatGPT was created by OpenAI in 2022, and it's created a stir for its power and potential to completely disrupt multiple industries from marketing and retail to technology, law, education, finance—and yes, even healthcare. In fact, ChatGPT is generating lots of attention in healthcare for its possible value and ethical virtue in medicine, especially concierge medicine, which is based on a more personal physician-patient relationship. Discover how ChatGPT might affect the practice of healthcare and concierge medicine, along with the health of your own practice.
The real story behind artificial intelligence in healthcare
What was once a thing of science fiction has become a fact of life. While AI has been used to help people save time and trouble on personal tasks for years, it has taken on greater importance professionally with the arrival of ChatGPT. This chatbot takes AI to the next level by leveraging advanced learning techniques to generate intuitive, human-like responses and content in seconds by pulling from large amounts of data. Several sectors have been exploring its applications, with many expressing concerns about its practical, legal, and ethical use. Is ChatGPT a healthy addition to healthcare? The diagnosis is not clear, especially in concierge medicine, where the enhanced personal relationship is the heartbeat of the practice. That's why it's vital to review the ways that ChatGPT may help, and possibly harm, the healthcare experience for physicians and patients alike.
Could ChatGPT be just what the doctor ordered?
Many are lauding ChatGPT as a marvel of modern medicine. Its ability to generate natural responses and detailed content on command could help physicians save resources, energy, time, and possibly lives. And indeed, some say that ChatGPT may have the potential to aid healthcare professionals in various ways, including:
Providing relevant research, suggested treatment options, possible drug interactions and other helpful information in real-time.
Streamlining medical recordkeeping by summarizing important patient details, such as diagnoses, treatments, imaging reports, and lab results.
Helping with writing and documenting clinical notes, medical reports, and discharge information by supplying recommendations and corrections.
Easing the process of remote patient monitoring by analyzing data from wearable sensors and delivering real-time information about a patient's health status.
Making clinical trial recruitment more targeted and efficient by identifying potential participants who meet a trial's criteria.
Facilitating the monitoring of global health information to detect patterns in the emergence and spread of diseases, as well as providing alerts to the public about protective measures.
Offering instant access to the latest medial information, research, and resources to support the lifelong learning and development of healthcare professionals.
How AI/ChatGPT could affect patients seeking care
ChatGPT has the potential to take much of the work and worry out of the overall patient experience. Patients are already exploring the benefits of using ChatGPT to take control of their health, including:
Making it easier and more efficient to book appointments, get treatment, and access their medical information using virtual assistants.
Providing general information about medications, health conditions, and medical topics.
Making it easy to manage their medications by providing dosage instructions, reminders, details on side effects, storage information, and potential alternatives.
Translating complex medical jargon into simple information to help patients understand their health conditions, medication instructions, and options for treatment.
Supplying symptom checkers to help patients recognize their symptoms, decide whether they need to seek medical care, and learn about alternative over-the-counter medications.
Supporting the mental health of patients by screening for mental health conditions and connecting patients with resources for additional support.
The practical and medical ethics of AI in concierge medicine
While some of the possible benefits are intriguing, using artificial intelligence in healthcare poses ethical, legal, and safety concerns. One of the main ethical considerations is confidentiality because most of the data involved with ChatGPT is directly from the patients. Uploading private patient information into ChatGPT makes it at risk of being used by other parties in the future without consent. Since confidentiality is the basis of the physician-patient relationship, the availability of this personal data threatens the privacy of the patient, along with their trust in their physicians. In addition, legal limitations abound. Using ChatGPT in the diagnoses and treatment of patients can put physicians at risk of legal liability and medical malpractice claims if things go wrong. And using ChatGPT in medical writing raises doubts about authorship and potentially violates copyright laws. In terms of safety, ChatGPT won't always be accurate and has the potential to do more harm than good.
Healthy advice on using ChatGPT in concierge medicine
ChatGPT may hold tremendous promise for healthcare, but it also presents significant risks to a physician's practice, reputation, integrity, and career. Further complications arise with its use in concierge medicine because a personalized approach can diminish through a reliance on technology in lieu of physician-patient interaction. Before incorporating ChatGPT, it's wise to consider artificial intelligence as a means to gather information and resources rather than a mode of diagnosis and practice. At SignatureMD, our years of experience supporting the success and satisfaction of our physician partners and members has taught us to treat any new technology with a healthy dose of caution.
Sources:
About SignatureMD
SignatureMD is one of the nation's largest firms providing initial conversion and ongoing support services to concierge medicine physicians. SignatureMD currently partners with over 200 affiliated primary care physicians and specialists across 35 states, and its network is rapidly expanding.