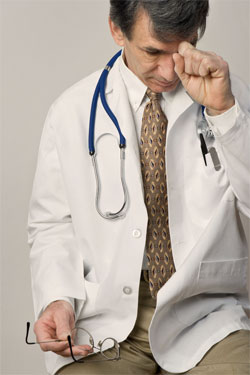 The Answer to Physicians Finding Work-Life Balance
An op-ed piece from Saturday's New York Times, by Dr. Karen Sibert entitled, "Don't Quit This Day Job," highlights some of the growing issues with medicine today, including why women in the healthcare profession can't easily find a work-life balance.
One of Dr. Sibert's main points is that although many women are being educated in the field of medicine, they often go to part-time in order to sustain family commitments and explore that work/home harmony. She explains that "if doctors aren't making full use of their training, taxpayers are losing their investment. With a growing shortage of doctors in America, we can no longer afford to continue training doctors who don't spend their careers in the full-time practice of medicine."
And she's right. According to the Association of American Medical Colleges, 15 years from now, America will face a shortage of up to 150,000 doctors. With the uninsured joining the healthcares system, doctors reaching retirement age and baby boomers requiring more medical attention, the shortage will only be exacerbated.
In Dr. Sibert's eyes, pay is partly to blame for the decrease in doctors. She explains, "As we look at Medicare and Medicaid spending cuts, we need to be careful not to drive the best of the next generation away from medicine and into, say, investment banking."
Enter concierge medicine. The model of personalized care developed by SignatureMD invites doctors to have a life outside work, without suffering financially. Although SignatureMD's concierge physicians are available to their patients 24/7, their limited patient load allows them the luxury of more traditional business hours. SignatureMD wants doctors to be rested, healthy and happy, so they can interact with patients most effectively.
Dr. Sibert says medicine "deserves to be a life's work"; but doesn't life deserve to be life's work too?
…
About SignatureMD
SignatureMD is one of the nation's largest firms providing initial conversion and ongoing support services to concierge medicine physicians. SignatureMD currently partners with over 200 affiliated primary care physicians and specialists across 35 states, and its network is rapidly expanding.