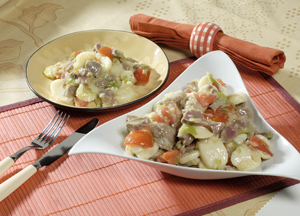 Food for Thought: Top Ten Food Swaps for a Healthier You
Making news today is a restaurant that boasts warning signs on the walls telling patrons that eating their food will kill them.
If you finish a quadruple-bypass burger meal at the Chandler, Arizona Heart Attack Grill, a nurse will push you to your car in a wheelchair. Even the chef admits eating his anti-arterial entrees seven days a week will put you in an early grave.
The Heart Attack Grill has their front door plastered with a "warning" from the Surgeon General: "Go away. If you come in this place, it's going to kill you."
Patrons are referred to as "patients" and must wear hospital gowns and medical bracelets. "Prescriptions" are written up by waitresses' dresses in nurse uniforms. At the grill, owner Jon Basso flips burgers bedecked in doctor's scrubs as a stethoscope hangs from his neck and a cigarette dangles from his mouth.
You can order "flatliner" fries, full-sugar colas, unfiltered Lucky Strike cigarettes, and four sizes of meat towers ranging from the "single" to the "quadruple bypass burger."
One of the biggest controversies surrounding this establishment is that people who weigh more than 350 pounds eat for free.
Sadly, in the USA, being at that weight or higher is not an uncommon thing anymore.
Personalized medicine helps people stay focused on healthy habits and offers guidance for lifestyle changes that are antithetical to the Heart Attack Grill's ethos. Good health is your first wealth, and not to be taken for granted or abused, unless you relish bankrupting your family from medical bills. An ethical physician wants their patients healthy and far away from hospitals, and will employ the best diagnostic tools to keep on top of their patients' baseline tests.
The biggest reason the Heart Attack Grille is in the news today is because the restaurant's 29 year-old spokesperson, a 600-pound former college football player, sadly has died.
Everyone loves an occasional calorific treat, but SignatureMD recommend some sane swaps in your everyday diet to keep you on track for a long and prosperous life:
Here are ten easy diet modifications:
1. Hold the sour cream, select fat-free Greek yogurt
Sour cream is a lovely addition to a potato or soup, but the taste and consistency of Greek Yogurt is so similar, you can also garnish or add in a sauce. Greek Yogurt has double the protein of regular yogurt.
2. Sprinkle crushed pecans or walnuts, skip high fat carb-laden croutons
Doctors will tell you, carbohydrates can cause high levels of a type of low-density lipoprotein (LDL), also known as bad cholesterol. For a healthier salad, replace croutons with walnuts, which are high in polyunsaturated fat—a good fat that can lower LDL while boosting HDL (good cholesterol).
3. Indulge in a bit of red wine, not hard liquor cocktails
Heart friendly red wine is a welcome dietary addition. A moderate alcohol intake can produce a slight rise in HDL cholesterol (good cholesterol). But hard liquor mixed drinks have lots of carbohydrates. Red wine has about a tenth of the carbohydrates of a margarita, plus antioxidants such as flavonoids that are believed to lower LDL and boost HDL. The American Heart Association recommends that you limit your daily intake to two glasses (for men) or one glass (for women).
4. Clean Greens: Vinegar and lemon juice over creamy salad dressing
Loading a salad in high-fat salad dressing is like eating at the Heart Attack Grille: Why do it? A low-fat alternative is a balsamic vinegar or lemon juice mixed with a touch of extra virgin olive oil and some herbs, a wonderful replacement.
5. Whiter meat: Ground turkey over ground beef
Red meat is a source of two of the main sources of blood cholesterol. Ground turkey contains half the saturated fat of 85% lean ground beef and it can be substituted easily for beef in most recipes. If you are really concerned for your heart, go vegan and get ground soy meat crumbles, especially for meatless chili!
6. Chicken, Fish and scallops are better
They have less saturated fat than red meat, turkey and fish is very low in fat and contains heart-healthy omega-3 fatty acids. Swap a chicken dish for a salmon dish – go for scallops over shrimp.
7. Brainy Grainy: Quinoa is hard to pronounce, but delicious
Quinoa is nutty, high protein and delicious. Soups, stews, alone or in salads, the benefits of quinoa (pronounced "KEEN-wah"), a South American seed that serves as a tasty and healthful stand-in for rice or couscous. One cup of cooked quinoa has 15% fewer carbohydrates and 60% more protein than a comparable amount of brown rice; it also has 25% more fiber, which can help lower blood cholesterol.
8. Snack attack smarts: Go for popcorn, not tortilla chips
Tortilla chips are wonderful but all too often, you eat too many before a meal at a Mexican restaurant. Try to watch the carbs, and swap homemade air-popped popcorn, which has 80% less saturated fat than tortilla chips and more than twice the fiber.
9. Hors D'Ouevres updated: Serve edamame and nuts, not cheese and crackers
Crackers and cheese are ridiculous in saturated fat and carbs. Serve almonds, which have been shown to lower LDL, and edamame, the boiled baby soybeans you get in Japanese restaurants. Edamame is low in saturated fat and one cup contains about 25 grams of soy protein. Buy them frozen, dump them into boiling water, and drain after 5 minutes. You can chill and use a bit of sea salt to flavor.
10. Comfort breakfast on a cold morning? Oatmeal with diced apples and walnuts over pancakes
Buy a large economical container of Oats and get it the habit of serving it up steaming hot in the mornings, dressed with diced fruits, chopped nuts and a touch of brown sugar. It gives people a better start than a stack of sugary carb-laden pancakes that will have you in a coma by lunch.
To your health!
Coming soon: Mimi Kirk interview exclusive!
Mimi Kirk's first book, "Live Raw," offers a whole lot of education about the benefits of raw foods, the pitfalls of the way we eat now, and ten steps for maintaining memory, mobility, independence, and beauty- all qualities that Mimi Kirk, at age 74, still appears to have plenty of.
…
Source(s)
I. http://today.msnbc.msn.com/id/41899470/ns/today-food/t/heart-attack-grill-spokesman-dies/
About SignatureMD
SignatureMD is one of the nation's largest firms providing initial conversion and ongoing support services to concierge medicine physicians. SignatureMD currently partners with over 200 affiliated primary care physicians and specialists across 35 states, and its network is rapidly expanding.