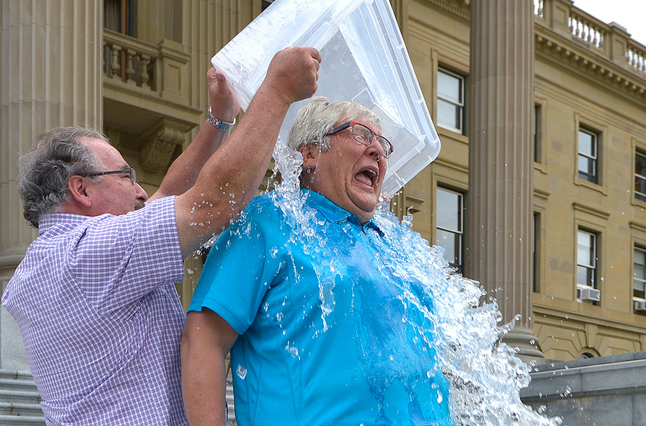 Ice Bucket Challenge – Raising Awareness of ALS
It seems they are everywhere at the moment, videos of friends, family, and celebrities throwing buckets of icy cold water over their heads. In the weeks since the Ice Bucket Challenge went viral, it has raised a staggering amount of money for the ALS Association, a non-profit fighting ALS, otherwise known as Lou Gehrig's Disease. So where did this challenge originate and how is it helping to raise awareness?
Amyotrophic Lateral Sclerosis
Amyotrophic Lateral Sclerosis is known by many names: ALS, Lou Gehrig's Disease, and Motor Neuron Disease. All of these names refer to the same progressive neurodegenerative disease that affects nerve cells in the brain and spinal cord. A person suffering from ALS will experience a progressive degeneration of their motor neurons, the nerve cells connected to the spine and muscles that are responsible for controlling muscle movement. In many cases the disease progresses rapidly, often causing paralysis and eventually death. As the disease progresses and the motor neurons degenerate, they are no longer able to send impulses to the muscle fibers controlling muscle movement, leading to muscle atrophy.
According to the ALS Association, early symptoms of the disease include increasing muscle weakness, especially involving the arms and legs, swallowing, and breathing. Currently there are no cures or treatments that will halt or reverse ALS. One drug, Riluzole, has been approved by the FDA and is showing promise in slowing the progression of the disease. Clinical trials are ongoing in the development of new ALS drugs.
Ice Bucket Challenge
The Ice Bucket Challenge has so far raised a staggering $88.5 million for the ALS Association. This compares to donations of just $2.5 million during the same period last year. The ALS Association, which only raised $64 million in the whole of 2013, will use these funds to conduct research, provide assistance to people suffering from the disease, and provide education to the public. Celebrities and public figures including Bill Gates, Oprah, and even former President George W. Bush, have all taken part in the challenge. According to the ALS Association, the Ice Bucket Challenge first went viral when former college baseball player and ALS sufferer, Pete Frates, challenged friends and celebrities to take part in the challenge to raise awareness of the disease.
Could Social Media Help to Eradicate Disease?

Today in our interconnected world, social media provides new opportunities for raising awareness of diseases for which we are yet to find a cure, and the charities that work to eradicate them. Although the Ice Bucket Challenge has its critics, it's clear that it has successfully raised awareness of this terrible disease, raising funds that will go towards developing new ALS medications and treatments. While the Ice Bucket Challenge is probably the most popular social media fundraising event to date, earlier in the year in the UK, the 'No Make Up Selfie' trend, where women would take pictures of themselves without make up and post to Facebook, raised an astounding $3.3 million in just a few days for a national cancer charity. These campaigns encourage a younger generation to participate and donate money to charities, raising funds that are crucial in the development of state-of-the-art treatments and medication that may one day eradicate many of today's incurable diseases.
Photo Credit: PremierofAlberta via photopin cc
Sources:
About SignatureMD
SignatureMD is one of the nation's largest firms providing initial conversion and ongoing support services to concierge medicine physicians. SignatureMD currently partners with over 200 affiliated primary care physicians and specialists across 35 states, and its network is rapidly expanding.