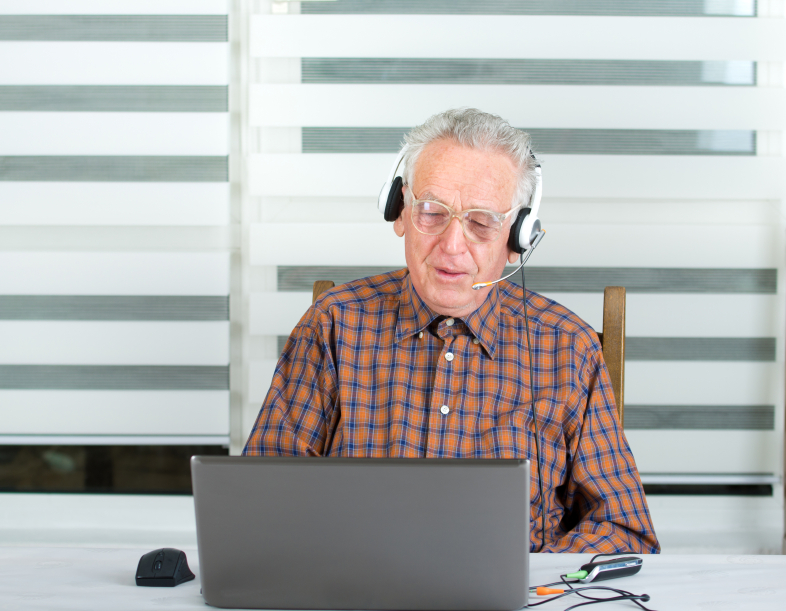 Is Telemedicine the Future of Healthcare?
The telemedicine industry has seen significant growth over the past decade. This growth has been partly driven by the Affordable Care Act and partly by patients desiring a more convenient form of healthcare that works with their busy schedules. The American Telemedicine Association defines telemedicine as "the use of medical information exchanged from one site to another via electronic communications to improve a patient's clinical health status". Telemedicine can be hugely beneficial but it also has its limits.
Telemedicine or telehealth is a booming industry, with telehealth companies reporting double-digit revenue growth. Patients love the convenience of it and physicians offering the service enjoy the flexibility and time saving aspects of this new form of healthcare delivery. Telemedicine can mean something different depending on which state you are in. In some states, telemedicine can be as basic as a phone consultation or an email, where as in other states the definition is limited to consultations using Internet video-call services such as Skype.
The Benefits of Telemedicine
Telemedicine offers many benefits to physicians and patients alike:
Convenient and Efficient – Telemedicine offers a level of convenience and efficiency to patients that isn't always present with traditional primary care. Patients save time traveling to the doctor's office, waiting in the waiting room and waiting for the doctor to see them once in the appointment room. Patients can schedule a video consultation when it's convenient, on their lunch hour or in the evening after work. This type of care saves the physician time too, as consultations are usually quicker than traditional face-to-face meetings.
Cost Efficiencies – Telemedicine saves patients money; consultations are less expensive than traditional consultations. Doctors usually charge a flat rate for this service, which tends to be a lot less than for a standard in-office consultation. Personalized medicine programs such as those offered by SignatureMD affiliated physicians, will frequently include telemedicine services for participating patients. Telemedicine is thought to reduce healthcare costs as it enables doctors to better manage chronic diseases, leading to fewer related health problems down the line.
Expedited Access to a Second Opinion – Telemedicine improves communication between patients and medical practitioners. It allows patients to receive a second opinion regarding tests in a quick and timely manner. Patients can email test results to a physician and receive a response by phone or video call, rather than waiting for an appointment.
Accessible Medical Services – Telehealth can be particularly useful for people living in remote rural locations that wouldn't otherwise have access to a doctor. These types of services allow the patient to consult with their doctor from home, saving them time and money.
What are the Limitations of Telemedicine?
Telemedicine has plenty of benefits, but it has its limitations. Certain medical conditions always need face-to-face attention and doctors cannot conduct tests through a video-call. Some medical professionals worry that as telemedicine increases in popularity, so will prescriptions for unnecessary medications. Telemedicine seems to work well for common conditions such as flu or pink eye, but has its limitations for more complex illnesses.
Telehealth services are also limited by licensure. Healthcare providers and physicians are licensed by the states they practice medicine in. This means a physician practicing medicine in Florida will usually only be able to consult with patients located in the same state unless they are licensed to practice somewhere else. This leads to limitations for companies offering telemedicine services, as they need to recruit physicians for every state they operate in.
The Future of Telemedicine
Telemedicine offers many opportunities for physicians and patients to receive convenient and accessible healthcare. SignatureMD affiliated physicians offer telemedicine in the form of phone consultations, HIPAA secure email, and in some instances through video-calls. These consultations can enhance personalized care programs and provide a useful alternative for patients that frequently travel or have a non-serious medical concern that they'd like to discuss with their physician without visiting the office.
If you'd like more information regarding SignatureMD's unique personalized care programs, please visit our webpage for prospective patients.
Sources:
http://conciergemedicinenews.wordpress.com/2014/02/17/legal-perspective-telemedicine-the-future-of-health-care/
http://www.americantelemed.org/about-telemedicine/what-is-telemedicine#.UzmuGK1dXrg
http://health.usnews.com/health-news/articles/2012/07/24/pros-and-cons-of-telemedicine-for-todays-workers
http://www.businessweek.com/articles/2014-02-27/health-insurers-add-telemedicine-services-to-cut-costs
About SignatureMD
SignatureMD is one of the nation's largest firms providing initial conversion and ongoing support services to concierge medicine physicians. SignatureMD currently partners with over 200 affiliated primary care physicians and specialists across 35 states, and its network is rapidly expanding.