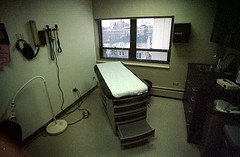 Power to the In-Person Appointment
Last week's Capstrat-Public Policy Polling survey reinforced in-person doctor-patient interface as the preferred option of American consumers. "Survey said" only 11 percent of respondents would take advantage of social media such as Twitter or Facebook to communicate with their doctor and 20 percent said they would use chat or instant message.
Respondents were, however, more favorable toward conferring with their doctor via email (52 percent), online appointment setting (56 percent), online access to their medical records (50 percent) and online bill payment (48 percent).
For some physician early-adopters, technology may appear to be a rocket that they'd better ride. For others who assume a wait-and-see posture due to fear, anxiety, lack of interest or time, tech is a necessary evil to be dealt with another day, another way. No matter the pace, daily technical innovations ensure some aspects of running a practice will never be the same.
And some will. Like the power of the person—the physician. The power of you.
SignatureMD's highest return/lowest risk approach to concierge medicine is designed to provide member physicians the ability to deliver healthcare the way they choose. Imagine that.
For your patients who demand quality face time with you, we think it is the way.
Time—and technology—waits for no one.
…
About SignatureMD
SignatureMD is one of the nation's largest firms providing initial conversion and ongoing support services to concierge medicine physicians. SignatureMD currently partners with over 200 affiliated primary care physicians and specialists across 35 states, and its network is rapidly expanding.