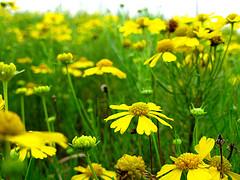 The Depressing Effects of Allergies
A Los Angeles Times article last week outlined the link between allergies and depression. Many studies have indicated that allergies may cause psychological detriment and that the "risk of depression in people with severe allergies is about twice that of those without allergies."
The theory is that severe allergies cause physical weakness, which can negatively impact mood. The science behind it explains that "allergic reactions release compounds in the body called cytokines, which play a role in inflammation and may reduce levels of the hormone serotonin, which helps maintain feelings of well-being."
According to the article, "While there's no firm evidence that allergies cause depression, large studies show that allergy sufferers do seem to be at higher risk of depression."
While depression won't necessarily hit all with allergies, it's important to stay on top of physical and physiological symptoms. That's one of the benefits of having a SignatureMD physician. With concierge medicine, doctors are able to monitor patients regularly and holistically – emotionally, mentally and physically – so that links like this are addressed with a plan.
Are you an allergy sufferer? Have you notice mood or outlook changes when the weather turns? Tell us your stories and any fixes you have found to work.
…
About SignatureMD
SignatureMD is one of the nation's largest firms providing initial conversion and ongoing support services to concierge medicine physicians. SignatureMD currently partners with over 200 affiliated primary care physicians and specialists across 35 states, and its network is rapidly expanding.