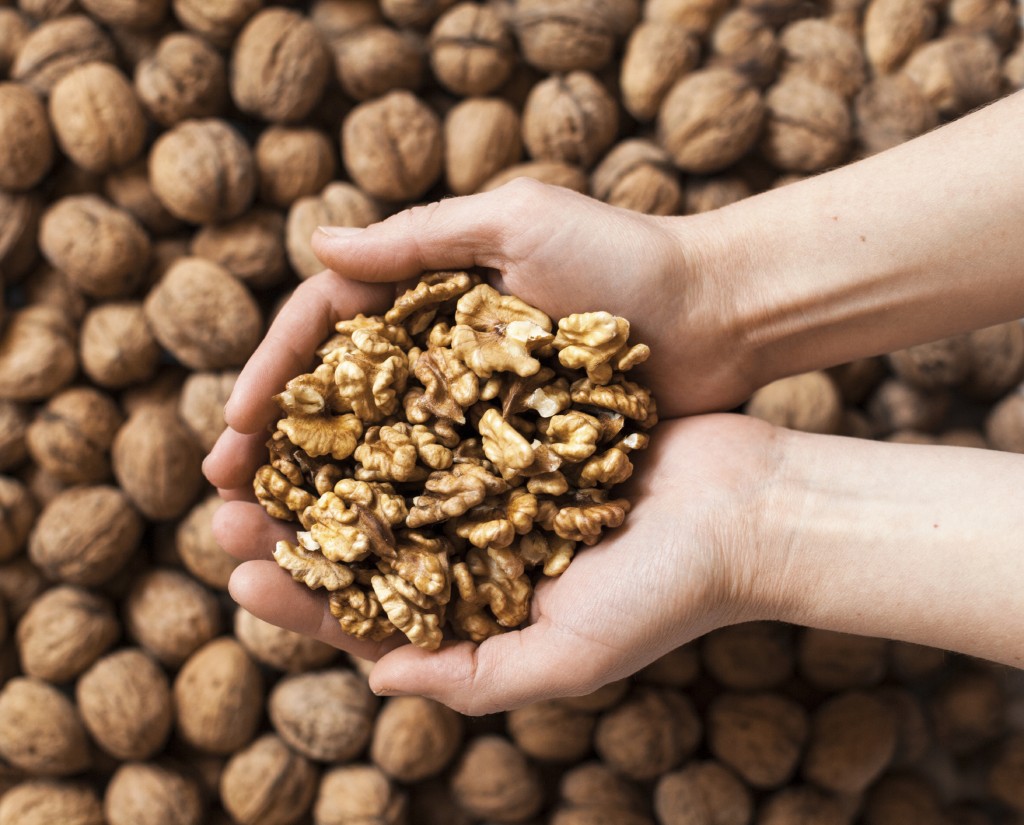 This Thanksgiving, Shake Things Up With A Disruptive Dessert (That's As Good For You As It Tastes)
Together with pumpkin pie, pecan pie is an essential ingredient in the traditional Thanksgiving dinner. But this year, new research is indicating that you might want to shake things up a bit and serve instead a walnut pie.
A new study published in the American Journal of Clinical Nutrition found that consuming walnuts and other tree nuts, may lower the risk of cardiovascular disease. After conducting a systematic review and meta-analysis of 61 controlled trials, one of the authors, Michael Falk, PhD, Life Sciences Research Organization, found that consuming tree nuts lowers total cholesterol, triglycerides, LDL cholesterol, and ApoB, the primary protein found in LDL cholesterol.
These are key factors that are used to evaluate a person's risk of cardiovascular disease. Walnuts were investigated in 21 of the 61 trials, more than any other nut reviewed in this study.
Why Walnuts?
Scientists are particularly keen on walnuts because they're nutrient-dense with protein and essential fatty acids. Just 100 grams of walnuts contain 15.2 grams of protein, 65.2 grams of fat, and 6.7 grams of dietary fiber
While all nuts contain heart-healthy omega-3 fats, only walnuts also have high amounts of alpha linoleic acid (ALA). Unlike most nuts, which are high in monounsaturated fatty acids, walnuts have mostly polyunsaturated fatty acids (72% of total fats),
Research has suggested that ALA may help heart arrhythmias, and a 2006 Spanish study suggested that walnuts were as effective as olive oil at reducing inflammation and oxidation in the arteries after eating a fatty meal.
"Our study results further support the growing body of research that tree nuts, such as walnuts, can reduce the risk of cardiovascular diseases," said Dr. Falk. "Tree nuts contain important nutrients such as unsaturated fats, protein, vitamins and minerals.
Two Decades Of Research
More than two decades of research has shown that walnuts may help lower cardiovascular risk factors by decreasing LDL (bad) cholesterol by 9-16% and diastolic blood pressure by 2-3 mmHg2, as well as reducing total cholesterol, raising HDL cholesterol, reducing inflammation as measured by C-reactive protein5, and improving arterial function.
These factors are major contributors to heart disease risk, and reducing them is a critical step toward a healthier heart. In addition to providing omega-3s, walnuts also deliver a convenient source of fiber (2 grams per ounce) and protein (4 grams per ounce).
Additionally, results showed that consuming tree nuts like walnuts may be particularly important for lowering the risk of heart disease in individuals with type 2 diabetes.
Time For Dessert!
With all that good science in mind, you can eat confidently when you sit down at the end of your Thanksgiving meal with the following dessert. Not only is it loaded with heart-healthy walnuts, but this walnut pie recipe doesn't use corn syrup or butter (but tastes just as good).
Thanksgiving Day Walnut Pie
Serves: 10
Nutrition score per serving: Calories: 342
Prep time: 20 minutes
Cook time: 30 to 40 minutes
Ingredients:
1 cup light brown sugar
1/4 cup white sugar
1/4 cup coconut oil
3 eggs
1 tablespoon all-purpose flour
1 tablespoon 2% milk
1 teaspoon vanilla extract
1 cup chopped walnuts
Directions:
Preheat oven to 350 degrees F (175 degrees C).
 In a large bowl, beat eggs until foamy, and stir in coconut oil. Stir in the brown sugar, white sugar and the flour; mix well. Last add the milk, vanilla, and nuts.
Pour into an unbaked 9-inch pie shell. Bake in preheated oven for 10 minutes at 400 degrees, then reduce temperature to 350 degrees and bake for 30 to 40 minutes, or until done.
About SignatureMD
SignatureMD is one of the nation's largest firms providing initial conversion and ongoing support services to concierge medicine physicians. SignatureMD currently partners with over 200 affiliated primary care physicians and specialists across 35 states, and its network is rapidly expanding.