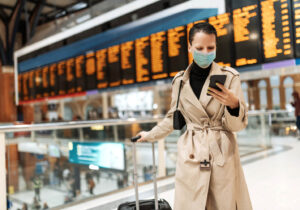 Travel safety in the age of COVID-19
Unless you must travel during the COVID-19 pandemic, it makes sense to simply stay home. Travel greatly increases your risk of getting and spreading the virus.
That said, for those who must travel during COVID-19 for work or family obligations, there are steps you can take to reduce your risk of exposure. The following COVID-19 travel tips can help keep you and your loved ones safe.
Who should not travel during COVID-19?
If you've recently been sick or exposed to someone with COVID-19, you should not travel under any circumstances. You should also avoid traveling if you have a high risk of infection.
If you live with someone at an increased risk of infection, you will need to be especially careful before, during, and after your time away. Even if you don't have symptoms, you can still spread the virus to others.
Planning tips for COVID-19 before travel
When planning a trip, it's best to check with local authorities regarding any COVID-19 travel restrictions. You may also want to look up the current number of cases at your proposed destination. Visiting areas with more infections puts you at greater risk of contracting COVID-19, and then spreading the virus once you return.
You can view the number of cases in the U.S. by state and learn about travel health notices for international travel at the CDC website. To research travel restrictions for a specific destination, consult the websites of your destination's state and local health departments.
For international travel, check out special entry requirements and restrictions on arriving travelers through the Ministry of Health, Department of Foreign Affairs, or the U.S. Department of State. In some locales, you may be subjected to mandatory testing or a 14-day quarantine upon your arrival. Keep in mind, these restrictions change rapidly, so you'll want to re-check this information as your travel date grows nearer.
What additional items should you pack?
In addition to your usual travel items, include protective items such as:
Masks to wear in public
Hand sanitizer with at least 60% alcohol content
Food and water (in case restaurants and stores are closed)
Cleaning and disinfecting products
What types of precautions should be taken during travel?
The recommended precautions vary somewhat based on the type of travel you've chosen. Below, you'll find COVID-19 travel advice for the most common modes of transportation.
Air travel
Although the air circulation on planes inhibits the spread of viruses, it can be impossible to socially distance on an overcrowded flight. In addition, you could come into close contact with infected individuals while waiting in security lines or in airport terminals.
The CDC and the Federal Aviation Administration (FAA) have issued guidelines to protect passengers and crew members during flights, such as requiring cloth face coverings. To determine what other protective measures are being followed, visit the specific airline or airport website.
In general, travelers are allowed to carry one 12-ounce container of sanitizer per carry-on bag. Any food items must be transported in plastic bags and placed in a bin for screening purposes. Personal items such as phones, wallets, and keys should be stowed in carry-on bags, rather than placed into bins. This reduces handling during inspection. Don't forget to wash your hands thoroughly with soap and water for at least 20 seconds immediately before and after screening.
Travel by car
If you decide to drive, you'll have more control over your environment. This doesn't mean that you don't need to be careful, however, particularly during any stops you make. Ideally, you should plan to make as few stops as possible to limit exposure to COVID-19.
Make sure you keep items such as cloth face masks, disinfectant wipes, and hand sanitizers in an easily accessible place, and use them frequently while traveling. Rather than stop for snacks or water, carry nonperishable items with you. These can also serve as a back up in case restaurants and grocery stores are closed. If you must pick up food while traveling, utilize drive-throughs or curbside pick-up services whenever possible.
Disinfect pump handles and buttons before gassing up your vehicle. Use hand sanitizer immediately after pumping, and then follow with soap and water once you reach your destination.
Other types of ground transportation
When traveling by train or bus, you can follow the COVID-19 travel advice noted for both auto and air travel. If you're planning to rent a car, investigate the rental company's disinfection polices online.
If you require ride-hailing services after you arrive, such as taxis or Uber, avoid sitting upfront with the driver and handle your own baggage, if possible. Steer clear of commonly touched surfaces unless you've cleaned them thoroughly first.
When taking public transportation, always wear a mask, practice social distancing, use hand sanitizer, and wash your hands thoroughly once you reach your destination.
Hotels and lodging
Most hotels have taken additional safety measures to protect guests and staff from COVID-19. For specific details, check the hotel's website. Typical precautions include:
Additional cleaning of public areas, elevators, guest rooms, food prep, and laundry areas
Social distancing in the lobby, at the front desk, and in parking areas
Contactless payment options
Ideally, precautions should include employee training in hand washing, cleaning, and disinfecting protocols, and proper use of personal protective equipment. Check to see what protocols are in place in case a guest becomes ill. These may include temporarily closing a guest room for cleaning and disinfecting.
Vacation rentals and other forms of lodging should offer similar safety measures. Always ask to be placed in accommodations that have been vacant for at least 24 hours. Disinfect high-touch surfaces, such as light switches, doorknobs, phones, and remote controls as soon as you arrive.
What precautions should you take after returning?
Even if you don't have symptoms, you can still infect others. It's best to avoid social gatherings for up to 14 days after traveling. Be particularly careful around those at high risk.
If you must be around others, remain at least six feet apart from anyone not in your immediate household, even when outdoors. Wear a mask when outside your home and wash your hands or use sanitizer often. Carefully monitor any symptoms that could be related to COVID-19. If you do become ill, contact your doctor for additional guidance.
Following these travel tips for COVID-19 can go a long way toward keeping you safe. Keep in mind, however, that travel by any means, or for any reason, still increases your risk of getting and spreading the virus. For now, the best COVID-19 travel advice is to avoid all but essential travel.
Sources:
About SignatureMD
SignatureMD is one of the nation's largest firms providing initial conversion and ongoing support services to concierge medicine physicians. SignatureMD currently partners with over 200 affiliated primary care physicians and specialists across 35 states, and its network is rapidly expanding.