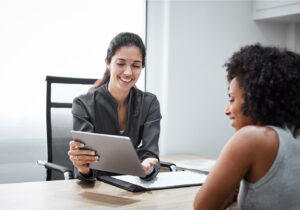 Communicating with new and prospective patients: What are the keys to successful program enrollment?
Effective patient communication in healthcare can make the difference between a good outcome and a poor one. The same is true in the enrollment process. Once you make the decision to integrate a concierge model into your practice, good patient communication will play a key role in how you educate existing patients on the benefits of membership and attract new patients to join the program.
Our patient liaison will be on site to help you throughout this critical process. It's important, however, that your patients hear directly from their physician, too.
What should I tell my patients about my new concierge program?
Effective doctor-patient communication lays the groundwork for successful enrollment. As your concierge partner, we provide the materials you'll need to start a conversation with existing and prospective patients. In addition, patient communication events are held both inside and outside your office.
It's important, however, that your patients hear the advantages of concierge care directly from you. Your knowledge of their backgrounds can help you zero in on which benefits may have the greatest appeal. Explaining how these benefits might directly apply to an individual patient's situation can go a long way:
Does the patient have health concerns where a personalized approach designed specifically to prevent them would be beneficial? You can explain how membership to a personalized care program includes services and benefits that aren't covered by insurance. Such benefits include the development of wellness plans that are customized to their individual goals and providing detailed steps to help them achieve measurable results.
Does the patient lead a busy life and have trouble finding time for regularly scheduled appointments? Talk about how same-day or next-business-day appointments, even for non-emergencies, will make it easier for them to fit healthcare into their busy schedules. Stress how appointments that begin promptly on time will spare them from spending unnecessary time in the waiting room, and how your 24/7 availability via text, email, or phone can help to address many of their concerns without the need for an office visit.
Does the patient desire longer visits to spend more dedicated time with you? You can point out how concierge membership will allow you to provide them with your undivided attention for 30 to 45 minutes per visit, and up to 90 minutes for physicals. Explain that you will also be available via phone, text, or email, 24/7, to answer questions or provide on-the-spot assistance.
Could the patient's health concerns benefit from nutrition, fitness, and wellness initiatives? Emphasize how these extra membership perks will specifically address their issues.
Do the patient's friends and family frequently visit from out of town? Discuss the benefit of having a physician or physician extender available to treat these visitors whenever a medical need arises.
How do I overcome enrollment concerns?
It's not just what you say, but how you say it that matters. We suggest that you take a proactive and positive approach. Consider membership a valuable option that you're excited to offer them. Listen carefully to any concerns and respond appropriately. Many patients will be excited to become concierge members.
For patients unwilling or unable to commit right away, it's important they're aware that they'll continue to be cared for by your practice. You can share with them that, by way of the SignatureMD segmented model, you'll remain involved as you oversee the physician extender you've carefully selected to manage their care.
Do your best to ensure that patients don't feel abandoned. Keep in mind, these same patients may later choose concierge membership as new health needs arise or as they witness the benefits of concierge medicine in action.
Here are some tips to ensure that your physician-patient communications are successful:
Make eye contact
Be clear and concise
Explain the benefits in plain, simple, everyday language
Avoid complicated jargon and ask what needs to be clarified
Use repetition to communicate essential points
Involve the patient in the decision-making process
Listen attentively and invite questions
Watch for verbal cues that indicate the level of understanding
Show empathy when a patient expresses concerns
Remember, it's all about the patient…
Are there any topics I should avoid in my discussion?
Don't discuss finances; that's what we're here to do. Other than that, there are no hard and fast rules regarding patient communication. If you're unsure about how to answer a question, it's okay to let the patient know that you'll get back to them. You can follow up as soon as you receive an answer from your patient liaison or another one of our experts. Your advocate will be there for you, guiding the process, answering questions, and providing support. Feel free to take advantage of this valuable resource.
What's most important is that you communicate directly and honestly with patients. Let their questions guide you, but don't rely solely on a patient's verbal communication. Paying attention to non-verbal cues can be very helpful in gauging your patient's sentiment. If a patient looks confused, try digging deeper to determine which points you need to clarify.
Most patients will welcome the opportunity to develop a closer partnership with their physician. Your role is simply to determine what obstacles stand in the way of that partnership, and then do your best to overcome them.
Sources:
About SignatureMD
SignatureMD is one of the nation's largest firms providing initial conversion and ongoing support services to concierge medicine physicians. SignatureMD currently partners with over 200 affiliated primary care physicians and specialists across 35 states, and its network is rapidly expanding.