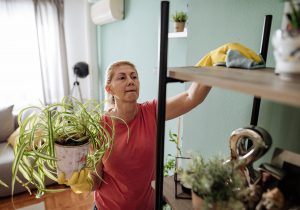 Spring cleaning and disinfecting tips for a healthy home
It's time to open the doors and windows to let the spring breeze in. But first, it's important to clear the air because not all home sanitizing methods and products have a squeaky-clean reputation. The best home disinfectant for certain surfaces isn't always smart or safe for others, which can affect your health. Make a fresh start by learning the latest spring cleaning tips for 2022 to properly clean different furniture, fixtures, fabrics, décor, and devices throughout your home. Then, discover tried-and-trusted spring cleaning and disinfecting tips to help clean up some of the dirt, along with suggestions for the best home disinfectant products and safe home sanitizing methods so you're able to start the season with a clean home and a clean bill of health.
Cleaning and disinfecting tips for a fresh home
Have you been scouring high and low for the best spring cleaning and disinfecting tips? You're not alone because it can be hard to know which products should be used in which places, as well as the disinfecting tips and tricks to scrub away stains and wash away dirt correctly. Forget the things that you've been told or sold before and start with a clean slate. Refresh your cleaning routine with the latest and greatest spring cleaning tips for 2022 for different spaces and surfaces of your home:
Hard surfaces – Solid surfaces like countertops, fixtures, and floors may look tough, but they require a gentle touch. Surprisingly, the best home disinfectant for these areas is often just soap and water, but you can also use a cleaning product specified for the surface.
Soft surfaces – When it comes to cozy fabrics like blankets, bedding, curtains, and upholstery, choose cleaning products that are safe and suitable for these delicate materials. When possible, launder these items according to the manufacturer's directions using the warmest appropriate water settings, then dry them as directed.
Electronics – From phones and computers to tablets, touchscreens, and televisions, these products are pricey and fragile, so you can't afford to use just any disinfecting tips and tricks. Experts advise following the manufacturer's directions and recommendations on proper cleaning methods and the best home disinfectant for safe cleaning. Always turn off devices and disconnect them from power sources before cleaning to avoid harming the device or yourself.
Laundry – There's a laundry list of disinfecting tips and tricks that can save you loads of time when doing the laundry. Start by using the right amount of detergent, then follow the recommended water temperature and drying directions listed on the labels of the laundered items. After handling dirty laundry, wash your hands and clean any laundry baskets or hampers according to instructions for these items.
Clean up your act safely
Many common household cleaners promise to do away with dust, dirt, germs, and grime to freshen up your home. But, the dirty little secret hiding beneath the surface of certain cleaners is that they can leave you with more than a lemony-fresh scent. They may also expose you to toxic chemicals that can do serious harm to your health and the environment if not used safely. That's why one of the most important spring cleaning tips for 2022 is to choose and use your cleaning products wisely and well. Follow these spring cleaning and disinfecting tips to make your home a happy—and healthy—place:
Read cleaner labels thoroughly and pay attention to the directions for proper use, especially warning words like DANGER or CAUTION, and safe storage instructions.
Choose greener cleaners by looking at the labels of your home sanitizing products and swapping out any with toxic chemicals for natural cleaning formulas whenever possible.
Avoid mixing cleaning products, which can produce toxic fumes that can harm your health.
Carefully follow all directions on the labels of cleaning products because too much of a good thing can be very bad.
Wear gloves and any other protection recommended on the label during use.
Store cleaning products in their original containers and make sure they're closed securely.
Wash your hands thoroughly with soap and water after using any cleansers.
Never consume any cleaning products.
Ask your SignatureMD-affiliated doctor if there are any chemicals you should avoid.
Make a clean break from the harmful cleaning habits that can hurt your home and your health. Then, dust off these spring cleaning tips for 2022 to safely spring-clean your cleaning routine.
Sources:
About SignatureMD
SignatureMD is one of the nation's largest firms providing initial conversion and ongoing support services to concierge medicine physicians. SignatureMD currently partners with over 200 affiliated primary care physicians and specialists across 35 states, and its network is rapidly expanding.