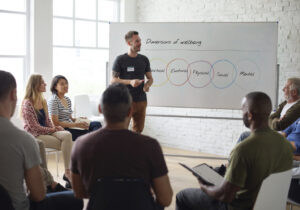 What is Global Employee Health and Fitness Month?
Global Employee Health and Fitness Month is an international event designed to celebrate and promote the benefits of healthy living both for employers and employees. It was founded in 1989 and takes place every May. Employers are encouraged to plan informational campaigns and activities to foster healthy behaviors at home and in the workplace.
What is a healthy lifestyle?
A healthy lifestyle is both a mindset and a way of living. Healthy living focuses on several key elements:
Avoiding tobacco
Being physically active
Eating healthy foods
Limiting alcohol consumption
What are the benefits of living a healthy lifestyle?
Even taking small steps to incorporate healthy lifestyle behaviors into our daily lives can provide significant health benefits. For example:
Living a healthy lifestyle lowers our risk of chronic health conditions, such as heart disease and diabetes, and premature death.
In addition to improving our physical well-being, living a healthy lifestyle also improves our mental and social well-being, helping us enjoy life to the fullest.
When we focus on healthy living, we serve as a positive role model for our children and others in our family, helping them create a healthier life for themselves.
Why should businesses participate in Global Employee Health and Fitness Month?
Employees are a company's most valuable resource, and investing in employee health is an essential component of managing human capital. Studies show that making employee health a core element of a company's human capital management strategy can lower employee healthcare and insurance costs, improve their morale, decrease absenteeism, and boost productivity. Corporate employee health initiatives can also serve as recruiting tools.
How can businesses promote healthy lifestyle initiatives in the workplace?
Regardless of the size of the business, employers can encourage healthy living among their employees by participating in GEHFM activities. The initiative is sponsored by the National Association for Health and Fitness and runs from May 1 to May 31, 2020. The process for participating is very simple:
Employers can register by visiting the GEHFM website.
Once they complete their registration, employers can access a toolkit with suggested activities and informational materials.
Employers are also encouraged to promote their participation and share their progress and details of their activities on the GEHFM Facebook page.
How can businesses improve team productivity through healthy lifestyle activities?
Although certain types of events, outings, and promotions, such as company picnics and discounted gym memberships, may be problematic in light of the current coronavirus pandemic, there are still plenty of creative ways businesses can promote healthy living and increase productivity among their employees. For instance:
Companies can stock their break rooms and vending machines with healthy snacks.
Businesses can offer programs designed to help employees quit smoking.
Employers can educate employees on the importance of staying home when they are sick. Employers should also ensure that organizational policies don't penalize employees for staying home when they are sick.
Organizations can create games or other initiatives to encourage employees to park farther away from the building or take the stairs instead of the elevator.
Businesses can create a bulletin board or electronic database where employees can share their favorite healthy living tips and recipes.
Providing employees time throughout the day to get up and stretch physically and mentally can also help increase productivity. For instance, employers can conduct walking meetings instead of sitting around a conference table or give employees the option of using standing desks.
What are some healthy living tips for office workers?
Transitioning to a healthier lifestyle, especially if your current lifestyle tends to be sedentary, takes time and focus. Following a systematic approach can increase the likelihood of success.
You should prepare yourself by reflecting on your motivations for change and the types of changes that you would like to make.
You should consult with a medical professional to get an objective measurement of your current health and identify the health and fitness strategies that are most appropriate for your health needs.
Set short- and long-term health and wellness goals that are specific, measurable, and challenging.
Develop the skills and tools necessary to succeed in your new lifestyle. If your goal is to quit smoking, for example, you will need to find alternative coping strategies for those situations when you would normally smoke.
New habits don't develop overnight, so be patient with yourself. It can take months or even years to make a new behavior a habit or to break an old unhealthy habit, such as smoking.
The best way to reinforce your new habits is to help others seeking to form the same habits. Offer to serve as a mentor or accountability partner for a co-worker or friend.
Sources:
About SignatureMD
SignatureMD is one of the nation's largest firms providing initial conversion and ongoing support services to concierge medicine physicians. SignatureMD currently partners with over 200 affiliated primary care physicians and specialists across 35 states, and its network is rapidly expanding.