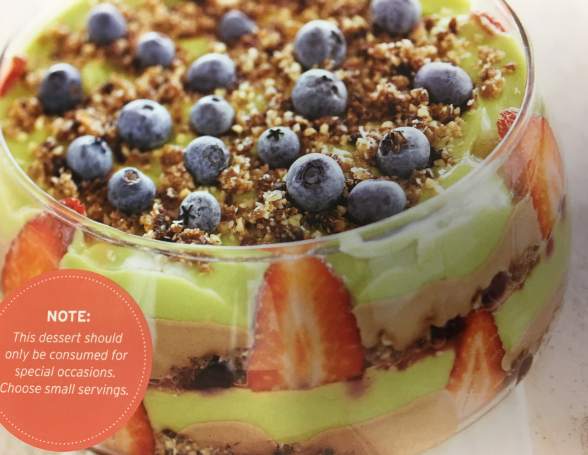 Avocado Cream Mousse
Refrigeration Time: Overnight
Prep: 60 mins
Servings: 12
Avocado Mousse
Ingredients
6 ripe avocados
1 cup lemon juice, freshly squeezed
1/3 cups of honey
Directions
Remove skin and seed from avocados, and place the green flesh into a food processor, removing all brown spots as you go.
Add lemon juice and honey, and blend until smooth and creamy.
Chocolate Cashew Cream
Ingredients
2 tablespoons raw cacao powder
1 cup raw cashews
2 tablespoons honey
1⅓ cups water
Directions
Place cacao powder, cashew nuts, honey and water into blender, and blend until a smooth and creamy consistency.
Crumble & Assembly
Ingredients
1 cup raisins/sultanas
1 cup pecans
1 teaspoon tahini
¼ cup unsweetened shredded coconut
500g blueberries
6–8 strawberries, sliced or 2–3 kiwi fruit, sliced
Directions
To make crumble, combine raisins/sultanas, pecans, tahini and coconut in food processor, and mix until well combined.
To assemble, place a layer of blueberries across the bottom of a parfait dish, and cover lightly with a thin layer of crumble mix.
Place sliced strawberries around the outside of the parfait dish to decorate. Pour about one-third of cashew cream mixture over crumble. Be sure to fill any gaps.
Top with one-third of the avocado mousse, then repeat layers of berries, crumble, cashew cream and avocado mousse. Cover lightly with crumble mixture and top with blueberries to finish.
Place in refrigerator to set, preferably overnight.
(Recipe from Eat more/CHIP cookbook)