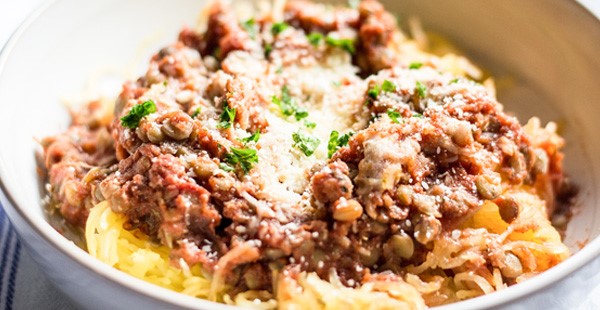 Baked Lentil Marinara Spaghetti Squash
Ready In: 1 hour 35 mins
Prep: 25 mins
Cook: 1 hour 10 mins
Servings: 6–10
Ingredients
1 lg. approx. 6–7 cups Spaghetti Squash, Cooked
1 cup Dried Lentils
1 tsp. Dried Oregano
1/2 tsp. Sea Salt
1 tsp. Italian Seasoning
1–2 Garlic Cloves, Minced
1/4 tsp. Black Pepper
1/8 tsp. Crushed Red Pepper (Optional)
1 14.5-oz. can Organic Diced Tomatoes
1 tsp. Dried Parsley (Or Fresh If You Prefer)
1 tsp. Paprika
1/2 cup Organic Tomato Paste (Canned)
1/2 cup Purple Onion, Finely Chopped
Fresh Parsley For Garnish
Nutritional Yeast
Directions
Preheat oven to 400°F.
Slice spaghetti squash in half lengthwise, remove seeds and add to baking sheet, with the skin down and flesh facing up.
Roast in the oven for 45–50 minutes or until you can use a fork to pull the flesh apart and it resembles noodles.
While the squash is cooking, add lentils and 2 cups water to sauce pan, bring to a boil, then reduce heat and simmer for 30 minutes, or until all water is absorbed and lentils are soft.
Meanwhile, add all ingredients for sauce (diced tomatoes through crushed red pepper) to a food processor, blend on high 25–30 seconds, or until ingredients are well combined and a thick sauce is formed.
Once the lentils have cooked, remove any excess water if needed, then add sauce to lentils and stir until well combined.
Top with lentil and sauce mixture, followed by freshly grated nutritional yeast and fresh parsley.
Serve hot.
Garnish with additional Nutritional yeast cheese and parsley if desired.
(Recipe from sprouts.com, with modifications)
Marinara Sauce Option #2
Ready In: 15 minutes
Prep: 5 minutes
Cook: 10 minutes
Servings: 6-8
Ingredients
3 tablespoons water or 1 tablespoon oil
1 medium onion, finely diced
3 cloves of garlic, crushed
2 x 14.5 oz/400g cans chopped or crushed tomatoes
1 bay leaf
1 tablespoon honey (optional)
½ teaspoon salt (optional)
10 leaves of basil, shredded finely
Directions
Heat water or oil in medium saucepan. Add onion and garlic, and sauté for 3-5 minutes until onion is transparent.
Add tomatoes and bay leaf, and cook for 3-5 more minutes.
Add honey and salt (optional), and stir through.
Take sauce off the stove, remove bay leaf and blend with a stick blender or in blender. Hold lid firmly in place while processing hot liquids.
Add basil stir through.
(Recipe from Eat more/CHIP cookbook)