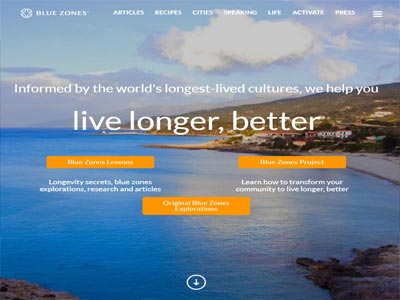 Blue Zones – Live Longer, Better
Our Mission
Informed and inspired by the world's longest-lived cultures, we help people live longer, better lives by improving their environment.
What We Do
Our work is rooted in our research and identification of the world's longest-lived cultures and most extraordinary populations. Our findings were published in the New York Times best-selling books The Blue Zones, The Blue Zones Solution, The Blue Zones of Happiness and Thrive – all published by National Geographic books. We have now applied the tenets of the Blue Zones in over 40 cities throughout the U.S., significantly improving health and lowering healthcare costs. We use an innovative, systematic, environmental approach to well-being that optimizes policy, urban and building design and social networks. Our work has been featured in media from CNN, NPR, and the New York Times.
Our Values
We believe that routine natural movement throughout the day contributes to longevity.
We believe that a plant-slant diet leads to a longer, healthier life.
We believe that relationships with family, friends, and people of faith lengthen lifespans.
We believe that a strong sense of purpose in life leads to longevity.
Our History
Adventurer and author Dan Buettner is an explorer, at one time circling the globe on his bicycle to earn three Guinness Book of World Records.
But for Dan, trekking continents is about mysteries, not miles. And it was a mystery in Japan that became the seed from which Dan's best-selling Blue Zones books would grow: What are the secrets of the world's longest-living people?
Who We Are
We live and breathe the Blue Zones mission—we even have treadmill desks and biking meetings.