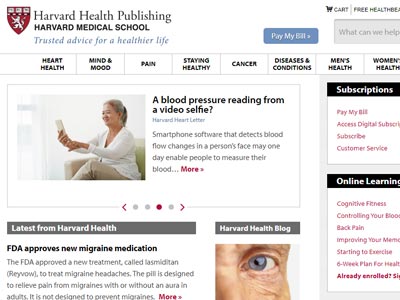 Harvard Health
https://www.health.harvard.edu/
About Harvard Health. Edu

Harvard Health Publishing is the media and publishing division of the Harvard Medical School of Harvard University, under the direction of Dr. David H. Roberts, Dean for External Education. The goal of our publications is to bring people around the world the most current health information that is authoritative, trustworthy, and accessible, drawing on the expertise of the 10,000+ faculty physicians at Harvard Medical School.
Working with partners in the media and publishing industry, Harvard Health Publishing publishes information about health and wellness through all types of media: newsletters, reports, books, mobile apps, video, web-based interactive tools and our websites (www.health.harvard.edu and www.HarvardProstateKnowledge.org) In addition, Harvard Health Publishing content is made available to the public through a syndicated daily newspaper column as well through licensing arrangements with a wide range of public and corporate websites.
Harvard Medical School was founded in 1782 and encompasses 18 affiliated hospitals with more than 11,000 members of the faculty, including more than 10,000 clinical physicians.