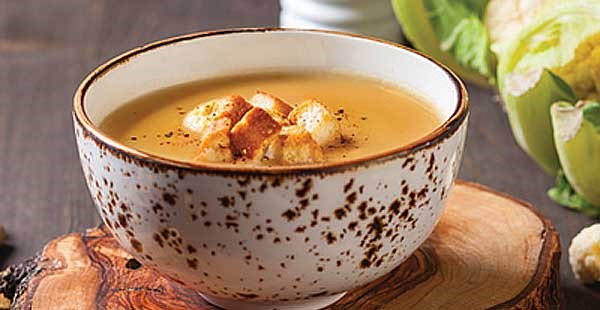 Indian-Spiced Cauliflower Soup
Ready in: 53 minutes
Prep: 20 minutes
Cook: 33 minutes
Servings: 6
Ingredients
1 cup Celery
Salt and Pepper, to taste.
1/2 tsp. Ground Cardamom
1/4 tsp. Cayenne Pepper
3 lbs. Cauliflower, Core Removed (Cut Into Bite-Size Pieces)
1/2 tsp. Ground Ginger
1 cup Yellow Onion, Chopped
1 tsp. Ground Cumin
1 tsp. Curry Powder
3 cups Vegetable Stock
4 cups Baby Spinach Packed (Optional)
1/2 tsp. Garlic Salt
Directions
In a large pot, heat the oil over medium-high heat until shimmering. Sauté the onion and celery, stirring frequently, until they start to soften, about 5–8 minutes.
Add the cauliflower and vegetable stock, stirring to combine. Cover the pot and reduce the heat to medium. Cook for 20–25 minutes, stirring frequently, until the cauliflower is tender.
Add the curry powder, cumin, garlic salt, cardamom, ginger and cayenne, and remove the pot from the heat. Allow the soup to cool slightly before adding salt and pepper to taste.
This soup is very versatile and can be served pureed smooth or left partly chunky, as you like. If you're pureeing the soup, do it in batches; reserve some of the soup unblended, adding it back into the pot to provide a nice texture.
The optional baby spinach adds beautiful color and earthy flavor to this soup. Add the greens after you've blended the soup; the tender leaves will wilt slightly in the hot liquid. (If the soup has cooled, warm it on the stove before adding the greens.)
Serve immediately.
(Recipe from sprouts.com)