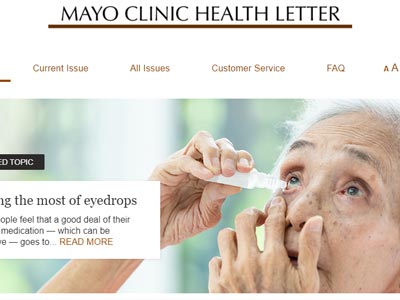 Mayo Clinic Health Letter
https://healthletter.mayoclinic.com/
About Mayo Clinic Health Letter
The mission of Mayo Clinic Health Letter is to help you achieve a healthier life by providing reliable, easy-to-understand health information.
Every word is reviewed by a team of Mayo Clinic doctors and health professionals for accuracy, reliability and clarity. First published in 1983, Health Letter has more than 500,000 satisfied subscribers worldwide.
Subscribers receive 12 monthly issues plus four Special Reports on individual health topics and a year-end index of articles published over the past three years. It's the only major health newsletter that includes full-color medical illustrations and photographs to increase your understanding.
Mayo Clinic Health Letter is available Online!
Mayo Clinic has long embraced technology as a means to bring world-class care to its patients.
With Mayo Clinic Health Letter — Online Edition, subscribers can enjoy instant access to our entire library of past issues and special reports, plus special bonus features such as recipes, interactive quizzes and more. Each month subscribers receive an email notification and are among the first to know when the latest issue of Health Letter is published, as well as new special reports on vital health topics.
Mayo Clinic Health Letter offers you time-saving, health-enhancing advantages of a printed newsletter combined with the power and convenience of the Internet.
Use Health Letter along with the advice of your physician, whom you should consult for personal health problems. Proceeds from Health Letter subscriptions are used to advance Mayo programs in medical research and medical education.